'Tiger King' Asks For Another Pardon After Claiming Signs of Cancer
"Tiger King" Joseph Maldonado-Passage, also known as "Joe Exotic," is asking for another presidential pardon—this time from President Joe Biden—after claiming he is showing signs of cancer.
In a Twitter post shared last Friday, Maldonado-Passage said the medical records his lawyer, John Philips, recently received from the correctional facility he is at has shown that his prostate-specific antigen, a protein produced by both normal and malignant cells, is high.
"John Philips has received my medical records from FMC Fort Worth and my PSA count came back very high for prostate cancer. The prison has approved testing to verify what stage it is in," Maldonado-Passage wrote. "My body is tired, I have lost a tremendous amount of weight, the mouth sores are out of control, I throw up more than I eat."
He continued, "I don't want anyone's pity what I need is when John Phillips gets the evidence he is working on, I need the world to help him get President Biden, VP Harris and the Attorney General to listen to the evidence and see that it's not just city cops out of control with corruption, but his very own Department of Justice and make this right and sign that pardon that Trump left behind so I can go home and get proper medical care and proper food."
Maldonado-Passage is currently serving a 22-year sentence after he was convicted in federal court in 2019 for two counts of murder-for-hire and 17 wildlife charges.
Prosecutors from the U.S. Attorney's Office for the Western District of Oklahoma say that Maldonado-Passage paid someone $3,000 to travel from Oklahoma to Florida to carry out the murder of big cat activist Carole Baskin. He was also accused of killing tigers at Wynnewood Animal Park, which he owned, to make room for other big cats and also of selling tiger cubs for money.
Maldonado-Passage's attorneys have maintained his innocence, saying that their client was framed and that he had no intention of having Baskin killed.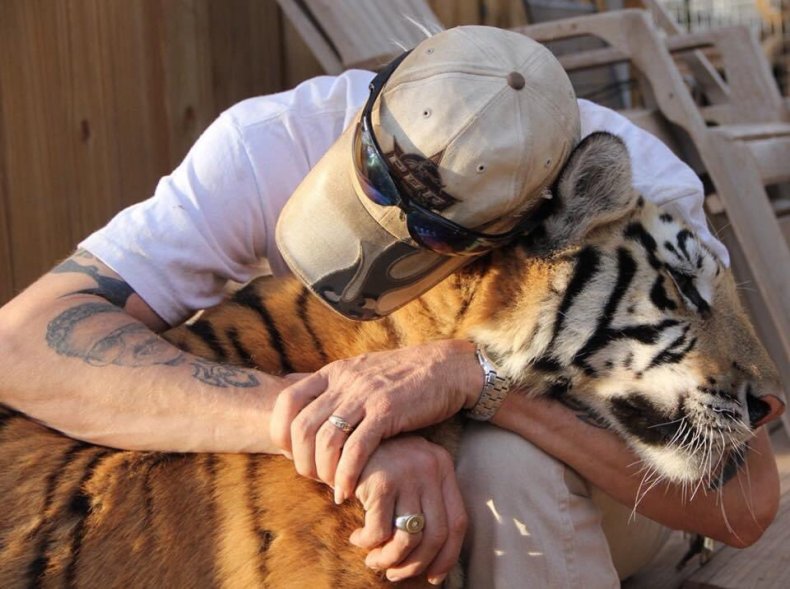 Maldonado-Passage had expected to receive a pardon from former President Donald Trump before Trump left office back in January. But while Trump granted a wave of clemencies in his final hours, Maldonado-Passage was not one of them.
Last September, he sent a letter to Trump asking for his help, writing, "If I have ever looked up to anyone it would be you. Not because I need you to save my life, but because you stand for what you believe no matter what anyone thinks."
Maldonado-Passage even prepared a limousine to take him from FMC Fort Worth to an undisclosed location, but ultimately never left the prison.
In response to the news that he would not receive a Trump pardon, the "Tiger King" tweeted, "I was too innocent and too GAY to deserve a Pardon from Trump. I only mattered to Don Jr. when he needed to make a comment about me to boost his social media post. Boy were we all stupid to believe he actually stood for Equal Justice? His corrupt friends all come first."
Maldonado-Passage said he has appointments scheduled with an oncologist and a urologist later this month and plans to have a biopsy, colonoscopy and endoscopy.
"Thank you for all the love and support from all over the world. I love you all. Wish me luck," he tweeted.
Newsweek reached out to the White House for comment but did not hear back before publication.