Joe Exotic Pardon Update As Limo Waits Outside 'Tiger King' Star's Cell
Joe Exotic's lawyers are so sure the convicted Netflix star will receive a pardon from Donald Trump, they reportedly have a limousine waiting outside his cell.
The Tiger King star—whose given name is Joseph Allen Maldonado-Passage—is currently serving a 22-year sentence for plotting to kill his rival Carole Baskin and for animal cruelty.
Reports have emerged this week that Trump intends to pardon more than 100 people before leaving the White House, including Rudy Giuliani and Lil Wayne.
Private investigator Eric Love, who is helming Maldonado-Passage's legal team booked a stretch-truck limousine to take his client to a secret location after his stint behind bars.
He is currently detained in the Federal Medical Center in Fort Worth, Texas after being convicted in April 2019 of 17 charges of animal abuse and two counts of murder for hire.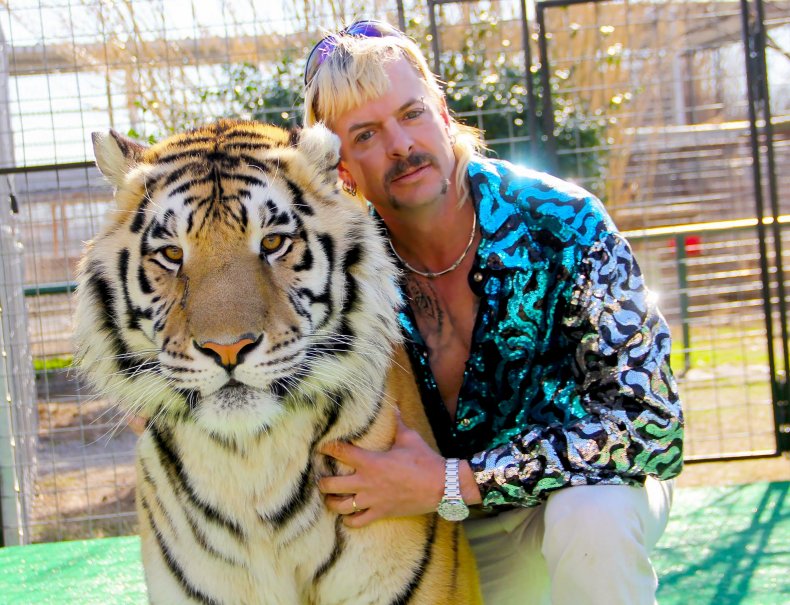 Love told The Sun: "We have the limousine fueled up and driver standing by. We are ready for the party."
Perris Jones, a reporter with Oklahoma news network, KOCO-TV tweeted a photo of the limousine to Twitter.
"I'm told this is the limousine that will be waiting to pick up Joe Exotic if he receives the pardon tomorrow," he said. "The lead advocate of Team Tiger tells me they'll be taking him to a secure location. He says Joe doesn't want anyone to see him until his hair his done."
Perris said that Team Tiger are "absolutely confident" they will receive a pardon from President Trump.
Speaking about why he believes Exotic will be among the group to be pardoned by Trump, Love told Metro: "I think the president has sided with us and I believe it will take most of the limelight away from president-elect Joe Biden."
The attorney said he had already prepared a video message thanking the president for his generosity to the Tiger King protagonist.
"Last night, I shot a congratulatory video thanking Donald Trump so we have it queued up and ready to go," Love added.
When asked about Maldonado-Passage's plans for if he gets to leave custody, Love said his priority is getting his hair done.
"The first thing Joe wants to do? He wants his hair done," he said. "He hasn't had his hair done in two-and-a-half years. That's the first order of business. Then we'll probably go and get some pizzas, steak, maybe a McRib."