'Tiger King' Joe Exotic Is in Solitary Quarantine Over Coronavirus Concerns
Joseph Maldonado-Passage, the man known as "Joe Exotic" in the popular Netflix docuseries Tiger King: Murder, Mayhem, and Madness, has been placed into isolation quarantine at the Federal Medical Center (FMC) in Fort Worth after a fellow inmate at his previous jail tested positive for coronavirus, according to Joseph's husband, Dillon Passage.
In an interview today on TV host Andy Cohen's Radio Andy SiriusXM show, Passage said, "[Joseph and I] speak, like three to five times everyday. But since he's been moved to this new facility, they are putting him on a COVID-19 isolation because of the previous jail he was at—there were cases. So I have yet to speak to him since he's been moved."
Maldonado-Passage achieved recent notoriety due to the Netflix series covering his exploits as the former owner and operator of the Greater Wynnewood Exotic Animal Park, an Oklahoma-based park which displayed rare and exotic animals, including over 200 big cats—like lions, tigers, pumas and cross-bred varieties.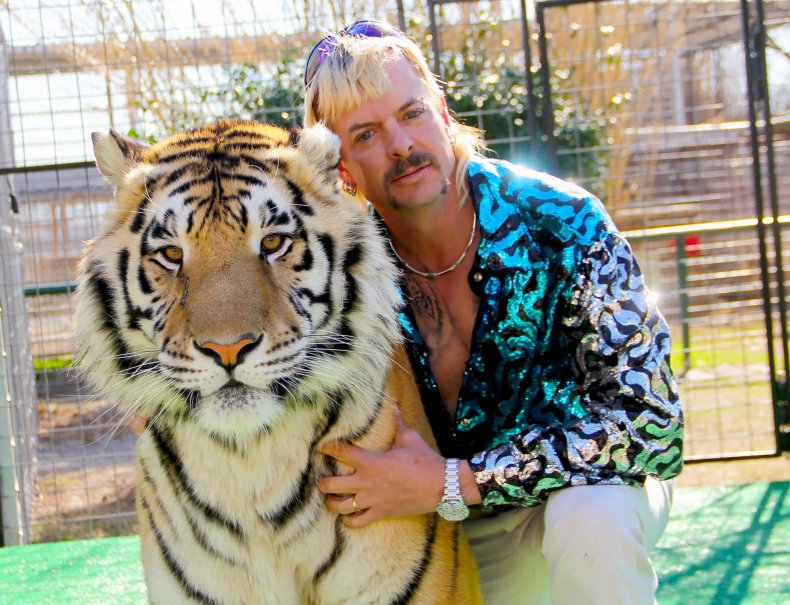 In April 2019, Maldonado-Passage was sentenced to 22 years in federal prison after being found guilty on 17 federal charges of animal abuse and two counts of murder for hire after he tried to solicit an undercover FBI agent posing as a hitman to kill Carole Baskin, an animal rights activist who also serves as CEO of the Florida-based wildlife sanctuary Big Cat Rescue.
Baskin had repeatedly protested Maldonado-Passage's treatment of his animals and his use of them in public shows, even securing a million-dollar 2011 legal judgment against him and his park. The following year, Maldonado-Passage began making public threats against Baskin on Facebook and YouTube, causing her to fear for her and her family's safety.
Maldonado-Passage is currently serving his sentence in the FMC, a federal penitentiary operated by the Bureau of Prisons which oversees male convicts with special medical and mental health needs. He was transferred from the FMC after being held during his trial in the Grady County Jail of Chickasha, Oklahoma.
Maldonado-Passage's quarantine falls within the Bureau of Prisons' guidelines for controlling the virus' spread. Today, the U.S. Justice Department's Federal Bureau of Prisons announced that all federal inmates will be under quarantine for the next 14 days due to coronavirus concerns. Inmates are to be kept in their cells and be allowed "to the extent practical" to use the commissary, laundry, showers and telephones. Inmates are also granted limited computer access.
Newsweek has reached out to U.S. Centers for Disease Control (CDC) to inquire about its other advisements for preventing an outbreak in U.S. prisons.