'Tiger King' on Netflix: How Long Is Joseph Maldonado-Passage in Prison for and When Will He Get Out?
Tiger King has become the latest hit true-crime hit on Netflix, with the documentary series currently top of several countries' top 10 charts. The seven-part series tells the story of Joseph Maldonado-Passage, aka Joe Exotic, and his descent from an eccentric zoo owner with a love of big cats to a prisoner, after he was embroiled in a murder-for-hire of an animal rights activist.
In January 2020, Maldonado-Passage (whose surnames come from two of his husbands) was sentenced to a total of 22 years in federal prison on murder-for-hire charges, after he promised to pay $3,000 to an undercover FBI agent to kill Big Cat Rescue founder Carole Baskin. He was also found guilty of nine counts of violating the Endangered Species Act, as well as eight counts of violating the Lacey Act by falsifying wildlife records.
That means that, if he serves his whole sentence, he will be out of prison in 2042, when Maldonado-Passage will be about 78. Per The Oklahoman, if he serves his full term, he will have three years on supervised release, during which time he is barred from owning any endangered animals.
However, if the former zoo owner has his way, he will be out of prison sooner than that. In April 2019, the prisoner wrote a letter to President Donald Trump, asking for a presidential pardon for his crimes.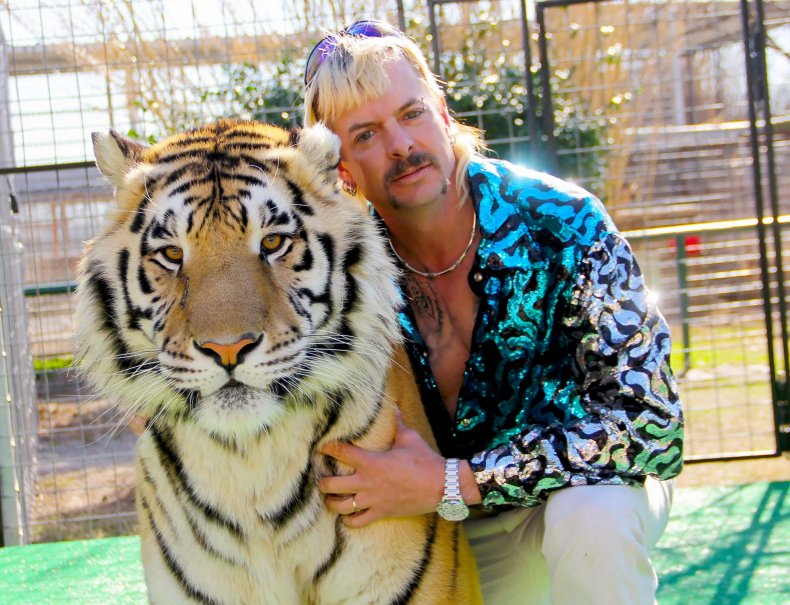 This letter read:
"Mr. President, I am asking for a special investigation or a Presidential Pardon from the Conviction I have Just received.
Here in America we use to take the swearing of Oath seriously to tell the truth. These days it means nothing to anyone, not even the Department of Justice or the U.S Attorney's Office. My trial was not about the truth, it was about the win for the prosecutors. Why do I say this? Because I can prove every lie and the U.S Attorney's Office had that proof to serve real justice and they ignored using the evidence both sides had to present to the jury.
I am being sent to prison for a form being filled out wrong by my vet's secretary under the Endangered Species Act.
I am being sent to prison for forms filled out wrong by the zoo manager while I was over 1000 miles away.... Under the Endangered Species Act.
I am being sent to prison because my Federal Inspector Debbie Cunningham with the USDA told me to write donated on the transfer forms but avoided being served for trial, so she'd have to admit to this.
I am being sent to prison for Euthanizing my own Tigers that were born and raised at my zoo to keep them from suffering because Congress did not put in the wording the word (TAKE) was meant for animals in the wild not in America.
I am being sent to Prison because a seasoned con man wanted my zoo so bad for free that he set me up in a plan he devised to look like I participated in his murder for hire scheme to get me out of his way to take over. His right-hand man and co-conspirator who helped devise the plan to avoid animal related charges himself, admitted under oath that he was offered 100k to get rid of me. And the other, his long-time hired man, a convicted felon, lied under Oath saying I was involved in this plot and I can prove it. The U.S Attorney's Office knows he was lying and did nothing, including turning a blind eye to:
- Human Trafficking
- Credit Card fraud
- Identity theft
- Internet fraud
- Drugging young women for sex
- Mailing drugs through Fedex and much more
All my proof was turned over and completely ignored just to push an animal right agenda to ban owning exotic animals.
I know by seeing your passion and conviction regarding our rights as American Citizens that this isn't what you meant by your belief to 'Let's Make America Great Again'.
Mr. President, I am pleading with you to please have this looked into. I am currently incarcerated at the Grady County Jail in Oklahoma and facing 20 - 50 years in prison for doing the same thing every zoo and sanctuary owner has had to do at one time or another.
Very Respectfully, Joseph Maldonado-Passage"
In January 2020, after the Tiger King star was sentenced, he vowed to appeal his conviction and noted in a Facebook post that he would sue the federal government for false imprisonment. Per his Facebook, this claim was filed in March 2020.
Tiger King is streaming on Netflix now.