Netflix true crime documentary Tiger King has barely been out of headlines since it debuted in March 2020. First, a number of people who appeared in the show came out to criticise the "sensationalist" documentary. Then, it was revealed that Kate McKinnon may be playing Big Cat Rescue owner Carole Baskin in an adaptation of the series.
Now, in the latest real-world turn of events, the "Tiger King" himself, Joseph Maldonado-Passage, has been put into isolation due to potential contact with a person with coronavirus.
Despite misinformation on the internet that the former zoo owner known as Joe Exotic actually has coronavirus, all we know so far is that he has been transferred to a federal medical centre and put in individual quarantine. This is due to people testing positive for the virus in a prison where the "Tiger King" has been held.
This is according to Maldonado-Passage's husband Dillon Passage. Speaking to Andy Cohen on his show Radio Andy, Passage said: "We speak like three to five times every day, but [not] since he's been moved to this new facility—they are putting him on a COVID-19 isolation because of the previous jail he was at, there were cases."
He added: "I've yet to speak to him since he moved."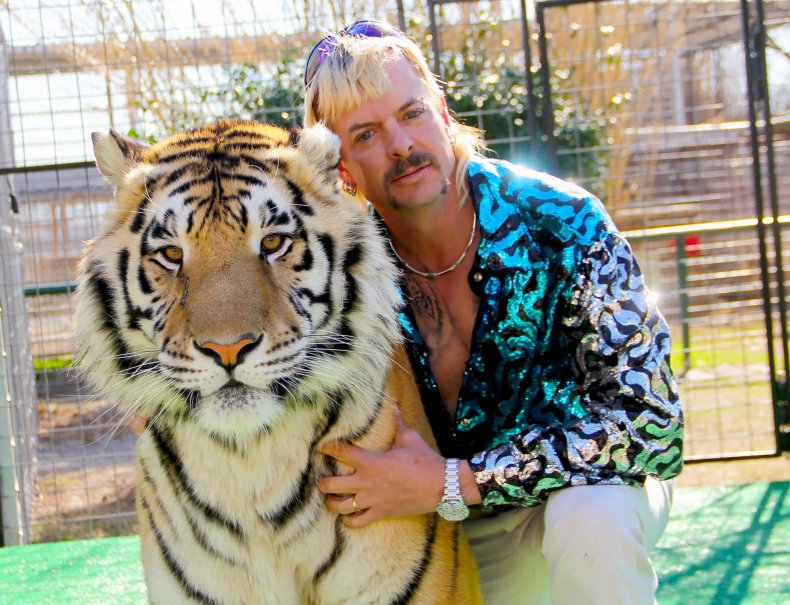 In response to the media attention following Passage's interview with Cohen, a message was posted on Maldonado-Passage's Facebook page to deny the rumours that he had coronavirus. This post read: "Joe DOES NOT have the COVID-19 virus, he's in a 14-day quarantine because he was transferred from another facility."
Passage's interview with Cohen also contained a number of pieces of interesting information for followers of Tiger King. Though much of the interview saw Cohen characteristically interested in the married couple's sex life, Passage also revealed that his husband had yet to watch the Netflix doc.
He said: "He's in jail so he can't necessarily watch it, but once the show dropped he was getting hundreds of emails to his jail mail, and he was ecstatic."
Maldonado-Passage is currently serving a 22-year sentence on murder-for-hire and animal abuse charges. News of his quarantine comes days after the U.S. Bureau of Prisons announced that all of the 146,000 people currently held in federal prisons will be quarantined for 14 days following a spate of prisoners testing positive for the virus.
The self-christened "Tiger King" is not the first infamous prisoner to make news during the coronavirus outbreak. In March, disgraced movie producer Harvey Weinstein tested positive for the virus. In April, the rapper Tekashi 6ix9ine, who suffers from asthma, was released from the prison where he was serving his two-year racketeering sentence.
According to the U.S. Attorney for the Southern District of New York, the performer will serve the remainder of his four-month sentence in home confinement.
Tiger King: Murder, Mayhem and Madness is streaming now on Netflix.