'Tiger King' on Netflix: Joe Exotic's Husband Says Joe Is 'A Really Big Trump Supporter'
Dillon Passage, the husband of Tiger King star Joe Maldonado-Passage (aka Joe Exotic) spoke to a British TV show on April 15 about how the documentary "really showed [Joe's] more eccentric sides."
In an interview with This Morning, Passage spoke about some of the events that have happened since the end of the Netflix doc. In particular, he spoke about Exotic's letter to President Donald Trump requesting a pardon.
He told presenters Eamonn Holmes and Ruth Langsford: "It's kind of a big deal having the president address something like that.
"Joe is a really big Trump supporter. When Joe heard that Trump was going to look into it he was really excited to see what could possibly happen."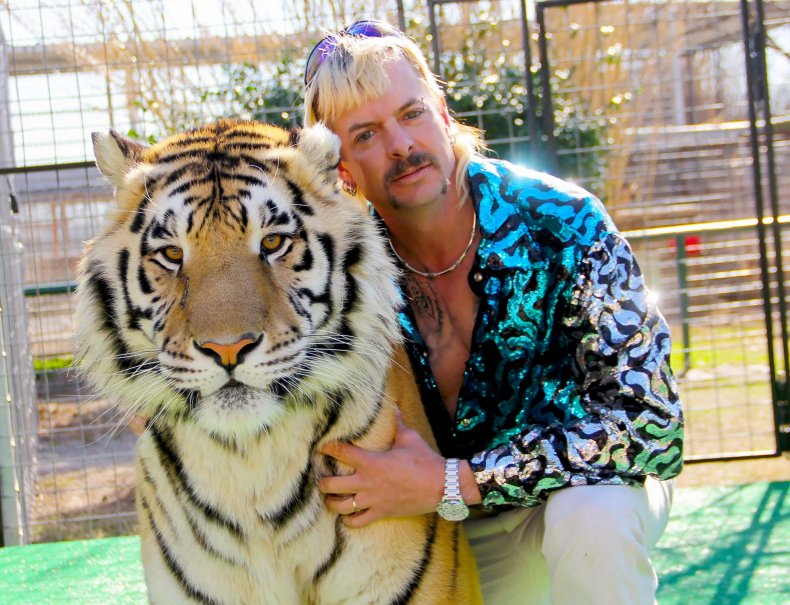 This comes after numerous publications reported that Trump was looking at the case of Joe Exotic, who is currently serving 22 years in jail for murder-for-hire and animal abuse charges.
After a New York Post reporter asked the president (per Vanity Fair) whether he would consider a pardon for his fellow reality TV star, Trump said, "I know nothing about it. He has 22 years for what, what did he do?" He then said, "I'll look into it."
In his This Morning interview, Passage also discussed the difference between the Joe he knows and the person the world has seen in Tiger King.
He said: "He's a pretty wild character, don't get me wrong. But the docuseries really showed his more eccentric sides. But behind the camera, Joe is really sweet and sensitive, he would have done anything to help anybody.
"The producers really wanted to get the point across that, yeah, he's opinionated, he's charismatic and that he doesn't really care what people think. But that's just really in front of the camera."
Passage's comments follow on from an interview he did last week with Us Weekly, where he shared his opinions about some of the other characters who appear in Tiger King. Speaking of Jeff Lowe, he said: "I know Jeff Lowe personally and I can't speak highly of him, because there has not been one day or one thing he has done that made me think, 'Oh that's a good guy.' Never once did I think that."
According to the Tiger King reunion released earlier in April on Netflix, Passage and Lowe had a fistfight at one point in the animal park. In the special, former GW Zoo employee John Reinke said: "I was there when Jeff and Dillon got into a fistfight out in the back parking lot, and rolled around for 15 minutes in the gravel. I was there for that."
In his Us Weekly interview, Passage added that he has no personal animosity toward Carole Baskin, the man who his husband tried to have killed. Passage said: "I've never met Carole, so I can't speak about how her personality is behind what was shown...I don't hold any resentment toward Carole."
Tiger King is streaming now on Netflix.