'Tiger King': How to Watch Joe Exotic's Previous Reality TV Appearance with Louis Theroux
Tiger King star Joseph Maldonado-Passage (known as Joe Exotic) is such an eccentric, larger-than-life personality that many viewers of the Netflix true crime documentary cannot believe that he has never appeared on TV before. However, many U.K. viewers of the doc may recognize Joe from a TV documentary made by journalist Louis Theroux.
In 2011, Joe starred in Louis Theroux: America's Most Dangerous Pets, which saw Theroux (the cousin of U.S. actor Justin Theroux) touring the biggest private collections of tigers and chimpanzees in America which of course brought him to Joe and his dozens of big cats.
For viewers in the U.K. and Australia, this documentary is easy to watch. BBC has released it as part of its iPlayer collection, while on U.K. Netflix it is Episode 14 of the streamer's Louis Theroux collection, where it has been retitled "Beware of the Tiger." In Australia, meanwhile, the episode is streaming on Stan.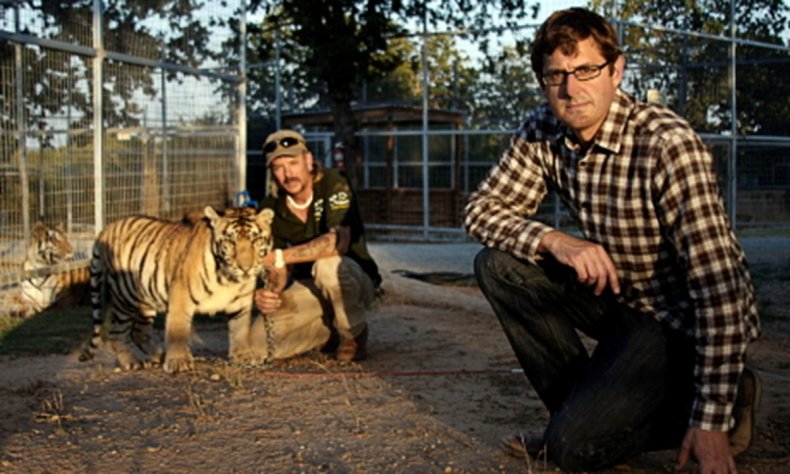 In the U.S., Theroux's work is harder to find. Though some of his documentaries appear on Britbox, Amazon Prime Video and Netflix, "America's Most Dangerous Pets" is not among them.
You can, however, see the highlight of that documentary on YouTube, shared by Theroux himself on Twitter after Joe was sentenced to 22 years in prison this January. In this clip, Theroux asks Joe what he would do if the documentarian was mauled by a lion.
Joe replies: "If he was to get you, he would not kill you and eat you right away. He's going to torment you. If you were to get in there and I was trying to get you out, he would be on top of you covering you up because you're his. I would just shoot you, it would be more humane [...] because I'm not going to get you back."
In this documentary, we see some of the conflict between Joe and People for Ethical Treatment of Animals (PETA) and other animal rights groups that is also depicted in Tiger King. In one segment, for example, a PETA activist calls Joe's zoo a "scamtuary" after Joe claims that he has rescued the animals housed in his park. As one of the reasons that Joe eventually went to prison was because he shot and killed five tigers, this takes on an eerie resonance in 2020.
Tiger King is streaming now on Netflix.