'Tiger King' on Netflix: How to Watch Joe Exotic's Music Videos and TV Show
Tiger King is the latest true crime documentary from Netflix, which tells the outlandish story of Joe Exotic, founder of the Greater Wynnewood Exotic Animal Park, and the web of unbelievable stories surrounding him, from his bigamy to the crimes that led to his incarceration. An added unbelievable element of the documentary, however, is Joe Exotic's music career and attempts to become a viral TV star via an online TV show and a series of seeing-is-believing music videos.
Though the website JoeExoticTV.com is no more, many episodes of his Joe Exotic Live TV show are available to watch online, as well as the best of his music videos. You can see this on the JoeExoticTV YouTube channel, which currently has just under 70,000 subscribers—more than a million fewer subscribers than his nemesis Carol Baskin's Big Cat Rescue account.
Among the music videos viewers can see on the YouTube account is that of "Here Kitty Kitty," the video we briefly see in Tiger King where Exotic hired a Baskin lookalike and had her feed meat to a big cat to further his story that she had fed her husband to her tigers—claims which she denies and the documentary could find no evidence for. Among the lyrics of this song are lines like: "Here kitty kitty, mommy's got some treats for you/Here kitty kitty, you can't find this taste in the zoo."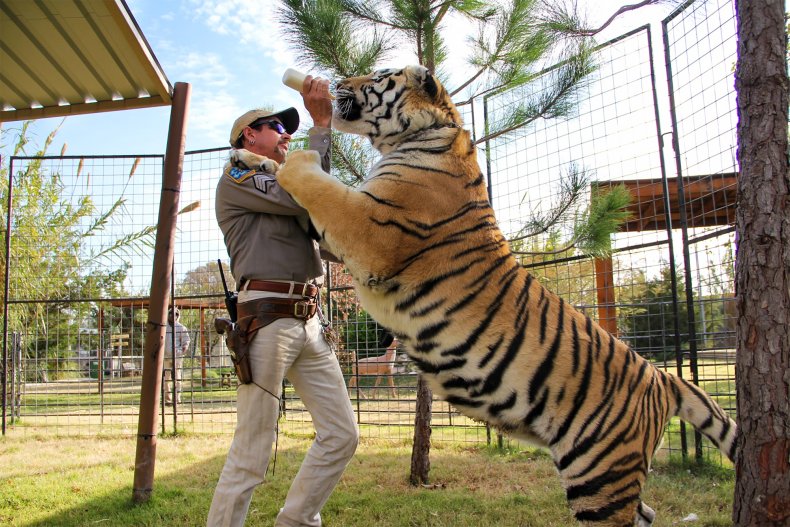 Viewers who have not watched all seven episodes of King Tiger should be warned—some of the videos on the site contain spoilers for what really happened to Joe and those around him.
The video for "How Was I to Know," for example, pays tribute to Joe's husband Travis Maldonado, who died in 2017 after he was hit by an accidental self-inflicted gunshot wound after trying to prove to someone his gun would not go off when the magazine was not inserted.
His YouTube channel also features evidence of another bizarre chapter in Exotic's life: When he tried to run to become the Libertarian governor of Oklahoma in 2018, only to lose in the Libertarian primary with just 664 votes. His YouTube account features a number of campaign messages from Joe, including his messages about legalizing marijuana, prison reform and the importance of school.
At the time of writing, his most popular video, with 22 million views, is a video of Joe's lion Bonedigger playing with two dachshund dogs. Other popular videos see a baby chimp, tiger and wolf playing together, while a video simply labeled "Animal Sex" has 2.4 million views.
Tiger King is streaming now on Netflix.