'Tiger King' on Netflix: What Happened to Joe Exotic's Husbands?
While the Netflix documentary Tiger King revolves around the eccentric animal park boss Joe Exotic, it doesn't devote much time to his husbands—the series of men he wed in marriages of varying legalities. Exotic has been married four times, to a total of five men (his 2014 marriage was to two individuals). Each of these men has their own story and, in several cases, tragic ending.
What happened to Joe Exotic's husbands?
Exotic's longest marriage lasted between 1986 and 2001. It was to Brian Rhyne, who Exotic met while working as a security guard at the cowboy-themed gay bar Round-Up Saloon. The pair were married at the bar, before same-sex marriages were legal in the state. They eventually opened a pet store, and then an animal sanctuary, together with Exotic's brother Garold.
Their marriage ended with the death of Rhyne in 2001, of complications relating to HIV. A few months later, Exotic met and married his second husband, J. C. Hartpence, with whom he would have a volatile relationship. Exotic claims Hartpence once held a gun to his head during a fight, and later went to prison for a murder committed after the pair had split up. Hartpence, like Joe's next two husbands, did not identify as gay when they married Joe.
His next marriage was to two people, though Exotic met them at different times. First was John Finlay, who is one of the talking heads featured in Tiger King. He met Finlay when he came to work at Exotic's zoo and, like Hartpence before him, often had violent rows with his partner—NY Mag reported he once sent Exotic to the hospital after throwing him into a wall.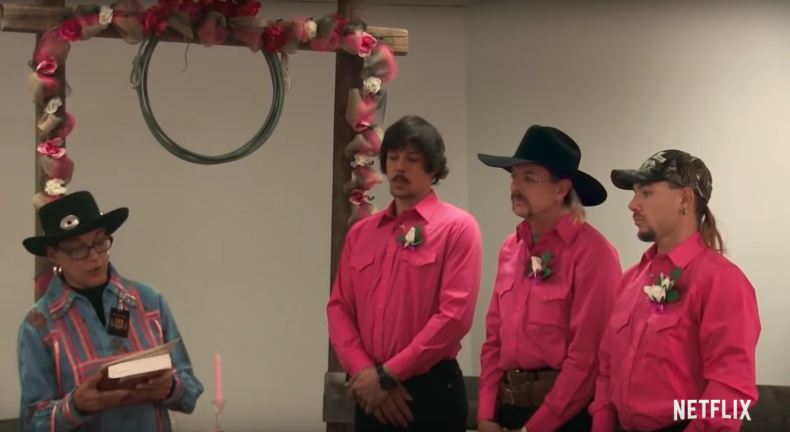 After numerous attempts to open up their relationship to a third person (as Finlay discusses early in the Netflix documentary), they formed a throuple with another young and troubled worker at the farm, Travis Maldonado. The pair married in 2014, in a ceremony seen in Tiger King (and which can be seen in full on Joe's YouTube page), though Maldonado and Exotic eventually remarried as a twosome when Finlay got a fellow worker at the animal park pregnant and left the marriage.
Maldonado then died in 2017. The full details of his death, and the impact it had on Joe, can be seen in Tiger King Episode 5, where we learn that after becoming increasingly unstable, Maldonado shot himself while trying to prove that his weapon would not fire without its magazine, despite there being a bullet in the chamber.
In the documentary, we see Joe's tribute to Maldonado at his funeral, as well as the memorial he built to him in the zoo. Per NY Mag, Joe too tried to shoot himself in the head at this time, but the bullet did not go off.
Two months after Maldonado's death, Joe married Dillon Passage, who was sleeping on an airbed in his cousin's house at the time of their first date (which we see in the Netflix documentary). They married in December 2017, left the park together, and were together at least until Joe's arrest in 2018. They may still be together, according to some reports.
Tiger King is streaming now on Netflix.