'Tiger King' Season 2 Release Date, Cast, Trailer, Plot — All We Know So Far
The weird and wacky world of Joe Exotic and co. are about to burst back onto our screens with Tiger King Season 2. Yes, the lockdown fever-dream documentary series is back with a second outing, despite Joe Exotic being behind bars. Newsweek has everything you need to know about the new series including release date, cast, trailer, plot, and more.
When is Tiger King 2 Out on Netflix?
If you've been counting down the days for the second installment of Tiger King, the wait is almost over.
Tiger King Season 2 will premiere on Wednesday, November 17 on Netflix worldwide.
Just like Season 1, there are expected to be 8 episodes in the new series.
To watch Tiger King 2 when it arrives, you must be a Netflix customer. You can sign up to Netflix now for $8.99 now.
Who Stars in Tiger King 2?
Joe Exotic will not appear in Tiger King 2 an outcome which is very much down to the fact he is currently serving a 22-year-long prison sentence.
The good news is, audiences will hear from the eccentric big cat keeper, whose phone call interviews from prison will be sprinkled throughout the documentary.
Speaking on Good Morning Britain in August 2020, Exotic's husband Dillon Passage teased Exotic would feature in the second series, despite being behind bars.
He said: "I do not know the release date but it's going to be very interesting because it will tell a little bit of Joe's arrest and afterward."
"I know there's going to be some phone call recordings of Joe that is going to be in it. There is no filming since he's incarcerated."
At the moment, it is unknown if Carole Baskin will appear in Tiger King 2, after she previously made clear she had no intentions to return for a Season 2.
Speaking to The Radio Times, Baskin said: "When [co-director Rebecca Chaiklin] said she wanted to clear the air, I felt like, you know, that's just absolutely ridiculous.
"It was so obvious that I had been betrayed by them. Why would she ever think that I would be willing to speak to them again? And so I told her to just lose my number."
Some familiar faces who found themselves in the spotlight after the first series premiered in March 2020 have also returned, including Jeff Lowe, Tim Stark, Allen Glover, and James Garretson.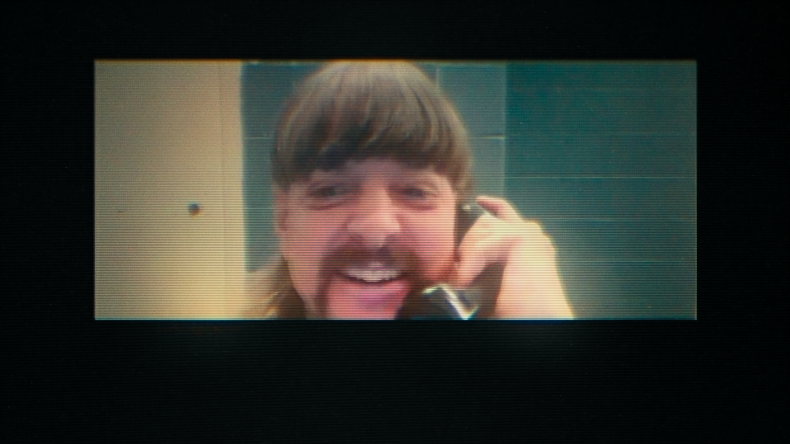 What Is Tiger King 2 About?
Tiger King 2 will pick up from the jaw-dropping end of Tiger King: Murder, Mayhem, and Madness which saw Joe Exotic arrested for the murder-for-hire plot of his rival, Big Cat Rescue's Carole Baskin.
Today, Exotic is currently serving a 22-year-old prison sentence for hiring someone to murder Baskin and for a series of animal abuse charges.
Carole Baskin, who had some spare time to appear on Dancing With the Stars Season 29 last year, was still determined to take ownership of G.W. Zoo after Season 1 aired, and Season 2 will track the outcome of her mission.
The new series is expected to catch up with the original series cast, including Joe Exotic and Carole Baskin, despite Exotic being behind bars and Baskin vowing to not return for Season 2.
Exotic's former business partner, Jeff Lowe is also set to take center stage in the new series, who purchased Joe's zoo after he was arrested. At one point in the trailer, Lowe can be heard boasting: "We have more money than God right now."
The new Season will also look at the campaign from Joe Exotic supporters to have President Trump pardon Exotic and will investigate further the mysterious disappearance of Baskin's ex-husband Don Lewis.
The synopsis for the new season teases: "With Joe Exotic behind bars and Carole Baskin closing in on ownership of his disreputable zoo, the Emmy-nominated saga continues its twisted course with Tiger King 2 as newfound revelations emerge on the motivations, backstories, and secrets of America's most notorious big cat owners.
"Old enemies and frenemies, including Jeff Lowe, Tim Stark, Allen Glover, and James Garretson return for another season of murder, mayhem, and madness. Thought you knew the whole story? Just you wait."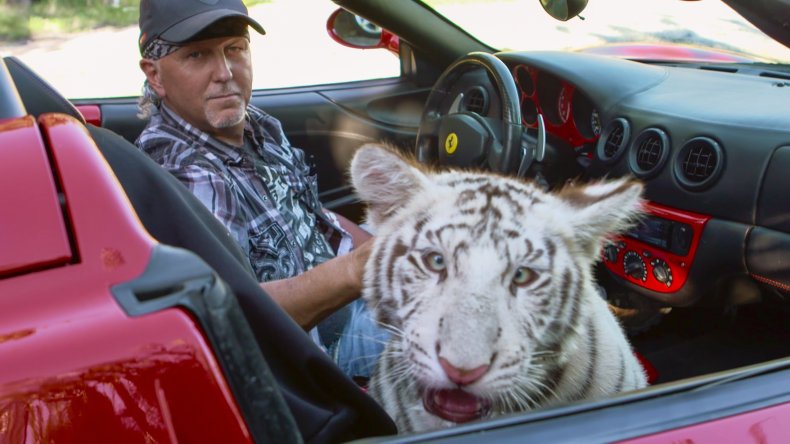 Is There A Trailer for Tiger King 2?
Yes, there is a trailer for Tiger King Season 2 and judging by the clip alone, it is set to be just as crazy as the first series.
In the trailer, Joe Exotic (speaking behind bars) can he heard saying he wants "to know the truth" about what has happened. Exotic also continues to plead his innocence after being convicted for plotting the attempted murder of Baskin.
At one point in the trailer, Exotic can also be heard grudging the fame others who starred in the documentary received. He can be heard saying: "Everybody from the zoo is out there making money, and I'm paying the price for every one of them."
The trailer also teases the new series that will delve into what happened to Tim Stark and Jeff Lowe after the first Season 2 aired, including when Stark's Wildlife in Need park was visited by the authorities as part of several investigations into animal welfare offenses.
While it remains unclear if Baskin will actually feature in the documentary, she does appear in the trailer as part of flashback footage.
Tiger King Season 2 premieres Wednesday, November 17 on Netflix.