"Tiger King" star Joseph Maldonado-Passage, also known as Joe Exotic, is launching his own cannabis line while serving time in federal prison.
On Monday night, Maldonado-Passage announced on Twitter that his attorney Brad Small signed a licensing deal with THC Group and Cannabis to bring a variety of cannabis products under the Tiger King's name to Colorado, California and Oklahoma.
"They will include edibles and various top shelf exotic strains. The products will be sold in dispensaries in these three states. It's the Joe Exotic strain of Cannabis, CBD and Edibles," Maldonado-Passage wrote. "Ask your dispensery for a Joe Exotic and smoke a Joe."
Small told TMZ in an interview that Maldonado-Passage has been directly involved in the business through calls and emails with his attorney and that the Netflix star is pursuing the business to help people who need cannabis to ease their pain from various ailments.
Maldonado-Passage is currently serving a 22-year sentence at a correctional facility in Fort Worth. In 2019, he was convicted for two counts of murder-for-hire and 17 wildlife charges.
Prosecutors from the U.S. Attorney's Office for the Western District of Oklahoma say that Maldonado-Passage paid someone $3,000 to travel from Oklahoma to Florida to carry out the murder of big cat activist Carole Baskin. His attorneys have maintained his innocence and claimed that he was framed.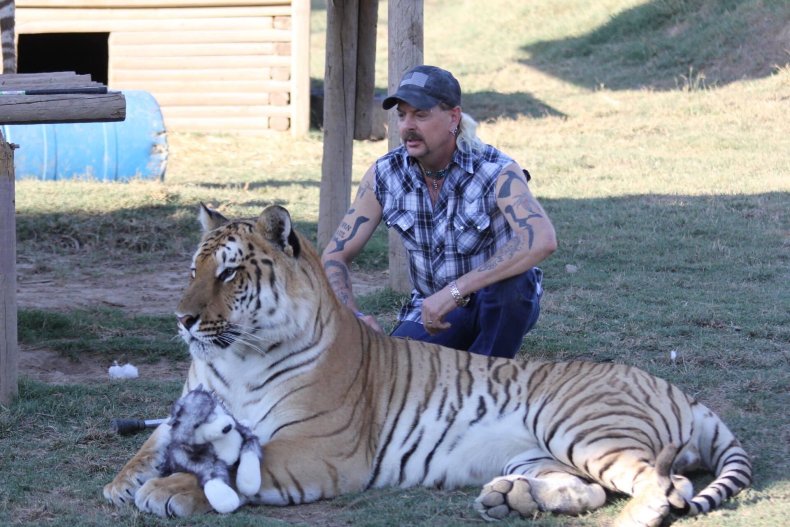 Maldonado-Passage recently asked President Joe Biden for a presidential pardon, citing his deteriorating health. He claimed that medical exams conducted from prison indicate that he is showing signs of cancer.
"I don't want anyone's pity what I need is when John Phillips gets the evidence he is working on," Maldonado-Passage wrote in a Twitter post last month. "I need the world to help him get President Biden, VP Harris and the Attorney General to listen to the evidence and see that it's not just city cops out of control with corruption, but his very own Department of Justice and make this right and sign that pardon that Trump left behind so I can go home and get proper medical care and proper food."
Maldonado-Passage had been expecting former President Donald Trump to commute his sentence before Trump left the White House back in January, but the "Tiger King" star did not make Trump's final list of final clemencies.
Upon learning that he would not be pardoned, Maldonado-Passage tweeted, "I was too innocent and too GAY to deserve a Pardon from Trump."
Maldonado-Passage stated that he had appointments scheduled to further examine his current health but has not provided any updates on those medical records at this time.