'Tiger King' Star Says Medical Mistreatment in Prison Will Kill Him in 2-3 Months
In a prison letter dated June 1, Joseph Allen Maldonado-Passage, the subject of the 2020 Netflix docu-series Tiger King, said he expects to be dead within two to three months due to insufficient medical care in his prison.
Maldonado-Passage is currently serving a 22-year sentence at the Federal Medical Center in Fort Worth, Texas, after being found guilty on 17 federal charges of animal abuse and two counts of murder for hire for allegedly soliciting an undercover FBI agent to kill his rival, animal rights activist Carole Baskin.
In his letter, he asked fans to pressure President Donald Trump to grant him a pardon—something Trump joked about on April 8 and Maldonado-Passage's legal team formally requested on May 8—because he's allegedly receiving insufficient medical care for his common variable immune deficiency (CVID) and hypogammaglobulinemia, conditions that make people susceptible to infections.
"[I] require blood infusions every 4 weeks," he wrote. "I have not had one since the end of January. I'm losing weight. Sores won't heal. I'll be dead in 2-3 months. It's like I have been sent to Death Row. They stopped all of my medication except one."
His lawyer's have reportedly filed a legal appeal on Exotic's behalf and a malicious prosecution lawsuit that claimed many people associated with Exotic's trial acted unfairly.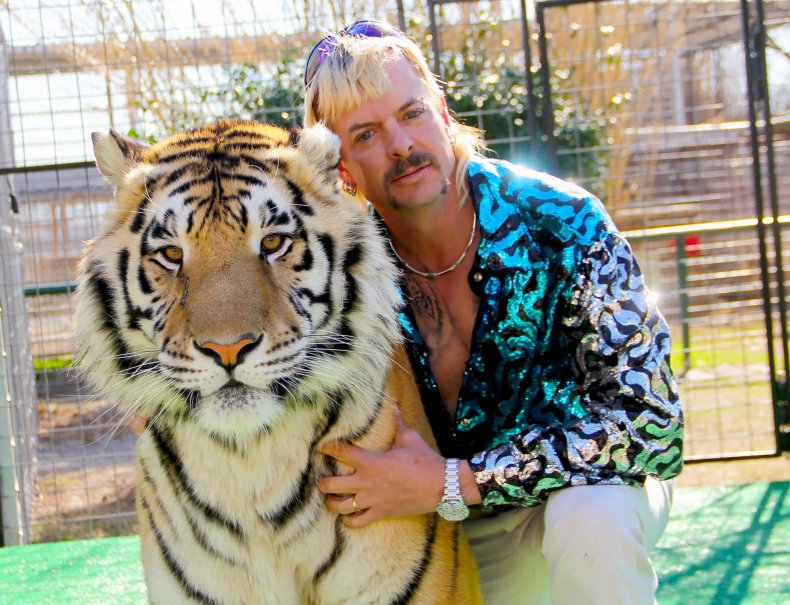 He echoes this sentiment in his letter, claiming to have proof that U.S. attorneys, agents and other witnesses lied under oath. He also claims to have been abused in jail.
"I was naked, tied to a chair until the skin came off my arms," he wrote before rhetorically asking if no one cares about the alleged abuse because he is "the wrong color."
Mostly, Maldonado-Passage's letter accuses his current husband, Dillon Passage, of not writing him in prison. However, Dillon says he has been writing and isn't sure if the prison is withholding his mail for some reason.
"I know they limit the amount he can read in a week and I only hope they eventually get to him," Dillon wrote in an Instagram post on Monday. "My heart is breaking after reading Joe's letter. He is living in hell right now and I'm outraged by the way he is being treated. I can't even begin to imagine how that is breaking his spirit. I love Joe and I'm standing by him."