'Tiger King' Will Air One More Episode on Easter Sunday: Everything We Know and How to Watch
You may have already binged your way through the absolutely unbelievable seven-part Tiger King, but there's actually more to see. The Netflix documentary series will air one more episode on Sunday, and it will seemingly provide a real-time update on what your favorite (or least favorite) personalities are up to now.
The new installment, called The Tiger King and I, was announced by Netflix Thursday. According to a Twitter post from the streaming site, this episode will feature new interviews with a list of the show's featured people including "John Reinke, Joshua Dial, John Finlay, Saff, Erik Cowie, Rick [Kirkham], and Jeff and Lauren Lowe," the tweet said.
Comedian Joel McHale will host the reunion-like episode, which will speak with the aforementioned people about how the series has changed their lives. Since its release last month, Tiger King has become a cultural moment in America's otherwise tumultuous time.
Jeff Lowe revealed the new footage filmed just last week in a Cameo on April 4.
There's no mention of Joe Exotic, who is arguably the heart of the series, appearing in the new episode. The former owner of the Greater Wynnewood Exotic Animal Park is currently in prison for a botched murder-for-hire plot and a list of other animal abuse charges.
Tiger advocate Carole Baskin wasn't mentioned in the announcement as well. The third episode of Tiger King spotlighted on the case of Baskin's missing husband and suggested that Baskin was allegedly involved in that never-solved disappearance.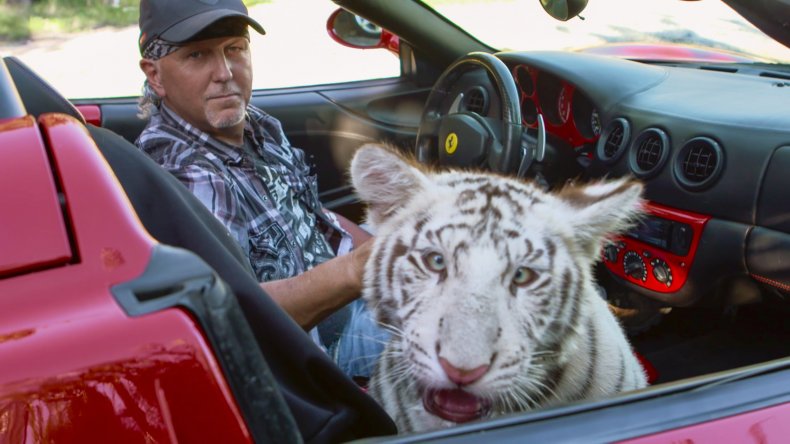 Baskin commented about Tiger King via her own blog on the Big Cat Rescue website and claimed again that she didn't kill her husband or fed him to her tigers, as Exotic accused her of. She also noted that Netflix had told her the docuseries would be like a Blackfish for tigers and expose wrongdoings in America's zoo system. Her words slammed the finished series, which highlighted her feud with Exotic more so than America's captivity laws.
Meanwhile, Netflix is apparently playing into the series hype, as their official Twitter bio references a quote from Baskin: "Hey all you cool cats and kittens."
Fans of Tiger King are likely most excited to hear from Jeff Lowe, who owns Exotic's animal park now. He perhaps one of the most controversial of the series because of his alleged role in pushing Exotic toward a murder-for-hire scheme. He's also apparently building a whole new zoo, so there's likely to be updates surrounding the animals and the public opinion surrounding him.
While the final episode won't be available until Sunday, all seven previous episodes of Tiger King are streaming now.