'Tiger King' Zoo Under Investigation After Photos Showing Injured Big Cats
The Greater Wynnewood Exotic Animal Park, the Oklahoma-based wildlife attraction featured in Netflix docuseries Tiger King, has been investigated by two government agencies after People for the Ethical Treatment of Animals (PETA) released photos and videos that allegedly showed juvenile lions at the park suffering from medical neglect.
In a statement, the Garvin County Sheriff's Office said the Oklahoma Department of Wildlife and the U.S. Department of Agriculture (USDA) have both visited the park to investigate. The office also said the animals are receiving veterinarian care in isolation and are being monitored by the USDA.
PETA said a whistleblower provided their organization with photos and video of lions suffering from severe "flystrike," a condition in which flies bite animals, lay eggs on them and let their hatched maggots eat away their skin. The egg-laying flies are often drawn to uncleared animal waste.
The video shows numerous flies motionless on a lion's ear. The animal's ears seem partially eaten away and the back of their head appears raw and red.
"Veterinarians who observed the documentation have opined that the wounds would be extremely painful and that if the lions aren't appropriately treated immediately, they risk losing their ears," PETA wrote in a statement.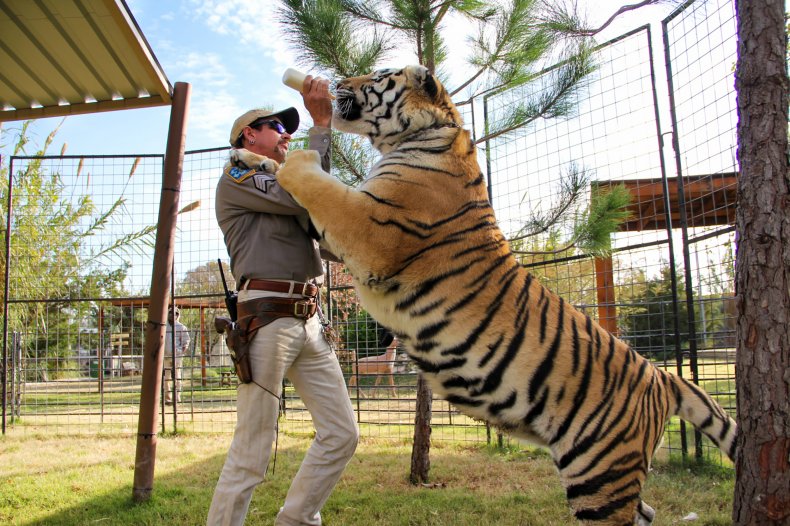 The organization claimed that the USDA allowed Joseph Maldonado-Passage, the park's previous owner who is known as "Joe Exotic" in the popular Netflix docuseries Tiger King: Murder, Mayhem, and Madness, to "abuse and neglect animals for years." PETA also named the park's current owner Jeff Lowe as continuing to allow harm to befall the park's animals.
In addition to over 200 big cats, the park has also displayed other rare and exotic animals.
"In the wake of Tiger King, the public eye is on the USDA to do its job and shut Lowe and his despicable roadside zoo down pronto," wrote PETA Foundation Deputy General Counsel for Captive Animal Law Enforcement, Brittany Peet.
Garvin County Sheriff Jim Mullett said that the U.S. Fish and Wildlife Service is also investigating, according to Tulsa 8, the local ABC news affiliate.
Lowe came into possession of the park after Maldonado-Passage accepted his offer to help resolve financial troubles after Carole Baskin, an animal rights activist, sued Maldonado-Passage for copyright infringement.
In April 2019, Maldonado-Passage was found guilty of eight violations of the Lacey Act, a federal law prohibiting the illegal acquisition and transport of rare animals, and nine violations of the Endangered Species Act for killing five tiger cubs. He has publicly appealed to Trump for a pardon.