The owner of a tiger which caused panic in a suburban neighborhood when it was spotted prowling the streets outside Houston on Sunday night has been taken into custody as police reveal the suspect was out on bond facing murder charges at the time.
Footage of the animal, seen wearing a collar, around the front yards of Fleetwood was shared online by stunned neighbors who seemingly had no idea a tiger was living in their midst.
Victor Hugo Cuevas, 26, bundled the Bengal tiger into his white Jeep Cherokee and drove off after concerned neighbors called Houston Police to report the sighting around 8 p.m., police allege.
"Apparently there's a tiger loose on my parents' West Houston street?," Rob Wormald tweeted alongside a video of the animal casually prowling along Ivy Wall Drive, near the intersection of Highway 6 and Memorial Drive.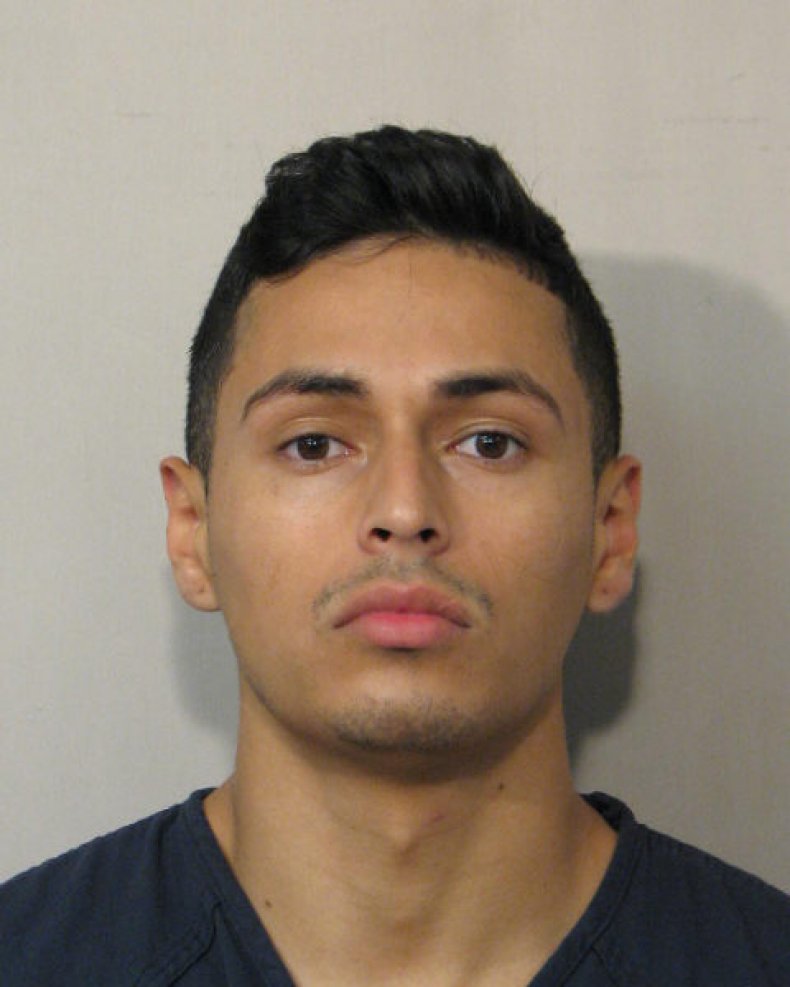 In the footage, the camera pans to show an off-duty deputy holding a gun outstretched as he coaxes the tiger to safety.
"Get the f*** back inside!" the deputy shouts. "F*** you and your f****** tiger."
Wormald shared a text message exchange with his mother over Twitter, detailing how the situation unfolded.
"The cop with the gun is our good friend Wes," a message reply read. "He is a sheriff's deputy and lives in the neighborhood. He went to control the situation but apparently the tiger owner put the tiger in his suv and fled with the tiger."
Another neighbor appeared to corroborate this account, tweeting: "Right after they brought it back inside they loaded it into an SUV and barreled out of their driveway over the lawn and fled from the police."
Cuevas was charged with felony evading arrest for fleeing from patrol officers on Monday morning, Houston Police Department Commander Ron Borza told reporters during a press conference.
The force published a 2017 booking photo of Cuevas to Twitter on Monday night and revealed the 26-year-old had also been arrested for a November 2020 murder in Fort Bend County, Texas, and was released on bond.
Cuevas' bond has subsequently been revoked, authorities said. About 9 p.m. GMT, Houston Police confirmed he had been taken into custody. However, the whereabouts of the tiger remains known.
"What I don't want him to do is harm the tiger," Borza said. "We have plenty of places where we could take that tiger and keep it safe and give it a home for the rest of its life... A lot of times, people get desperate and they do silly things."
Speaking to Newsweek, Wormald said his parent's leafy suburban neighborhood would be "literally the last place on earth I would expect to find someone with a tiger."
"My parents (and literally dozens of people) probably walk by that backyard every day (it backs up the bayou) and nobody had any idea," he added. "Makes you wonder what else happens in the burbs."
His mother added: "Nobody knew about the tiger. I would have been the first to volunteer to look after it! ... We were 30 mins earlier across the street with our neighbors celebrating Mother's Day. Probably 12/14 tasty kids of a tiger. We were literally 5 houses from where this was happening."
This is the second time since 2019 that a tiger has been spotted in Houston, but exotic pets, especially tigers, are typically not kept without a special permit from the state of Texas.
"The tiger portion of the investigation is continuing," police said.
Newsweek has contacted Houston Police for comment.