Tiger Woods Award From Donald Trump Live Stream: Watch Golf Star Receive Medal of Freedom
President Donald Trump will award golf legend Tiger Woods with the Presidential Medal of Freedom on Monday evening in the White House Rose Garden, following Woods's remarkable Masters win last month.
The event is invitation-only, but can be viewed by live stream when it kicks off at 6 p.m. EDT. It will be streamed on C-SPAN and can be watched on the White House's YouTube page below.
The Medal of Freedom is awarded to individuals who make significant and influential contributions to the well-being of the United States, and was established by President John F. Kennedy in 1963. It is one of the highest honors a civilian can receive in the country.
Woods, 43, won his fifth Masters title on April 14, after going nearly 11 years without a championship and facing back and leg injuries and personal hardships. Some have called Woods's feat one of the greatest comebacks in sports history.
"I can't thank my family, friends and fans enough for their support. Having my family by my side today is something I will never forget," Woods tweeted that day with a photo of his fifth Masters green jacket. "To not only be able to play again, but to be able to win again, is something I will forever be grateful for. This jacket sure is comfortable."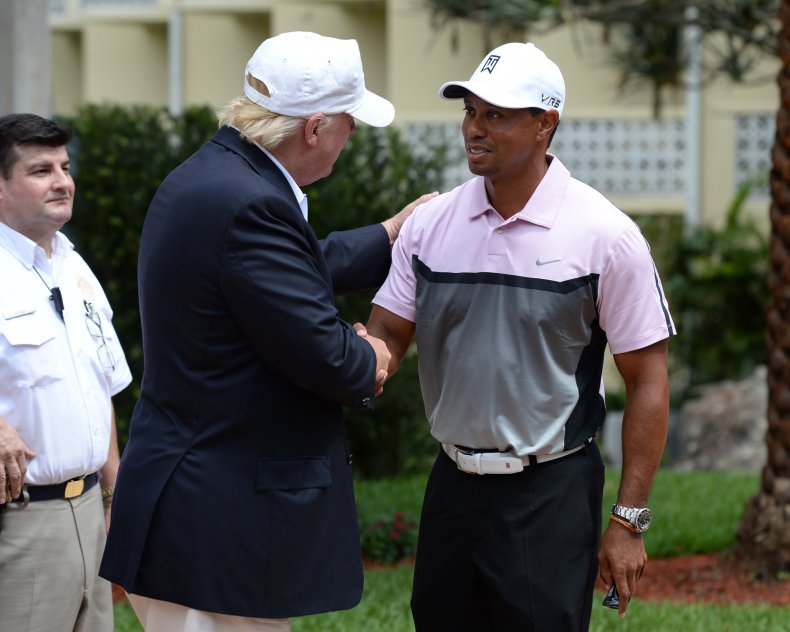 Woods, who won the Masters in 2005, 2002, 2001 and 1997, has had multiple surgeries and took several months off from golfing in early 2010 following allegations he had extramarital affairs.
Trump congratulated Woods, whom he frequently played golf with in Florida, the day after Woods won his fifth Masters.
"Spoke to @TigerWoods to congratulate him on the great victory he had in yesterday's @TheMasters, & to inform him that because of his incredible Success & Comeback in Sports (Golf) and,more importantly, LIFE," Trump tweeted. "I will be presenting him with the PRESIDENTIAL MEDAL OF FREEDOM!"
Last Thursday, White House Press Secretary Sarah Sanders tweeted the details of the award ceremony and that "the event will be invitation only and covered by the press."
Woods will be the fourth golfer to receive the Medal of Freedom. Charles Sifford, the first African American to play on the PGA Tour, received the medal from President Barack Obama in 2014. President George W. Bush presented the medal to Jack Nicklaus in 2005 and to Arnold Palmer in 2004.