Tiger Woods Does Not Expect to Play Golf Full Time Ever Again 9 Months After Car Crash
Tiger Woods said during a recent interview with Golf Digest that while he does hope to compete again in the future, he does not anticipate playing golf full time.
The Zoom interview released on Monday marked the first time Woods has spoken at length about his career since a car crash in February landed him in the hospital.
Photos of the crumpled vehicle that circulated after the crash in Los Angeles led many golf fans to wonder if the 82-time PGA Tour victor would be able to walk around a golf course again. In the weeks following the incident, investigators said Woods' vehicle was estimated to have been traveling above 80 miles per hour at the time of the crash.
The golf icon's right leg required surgery as a result.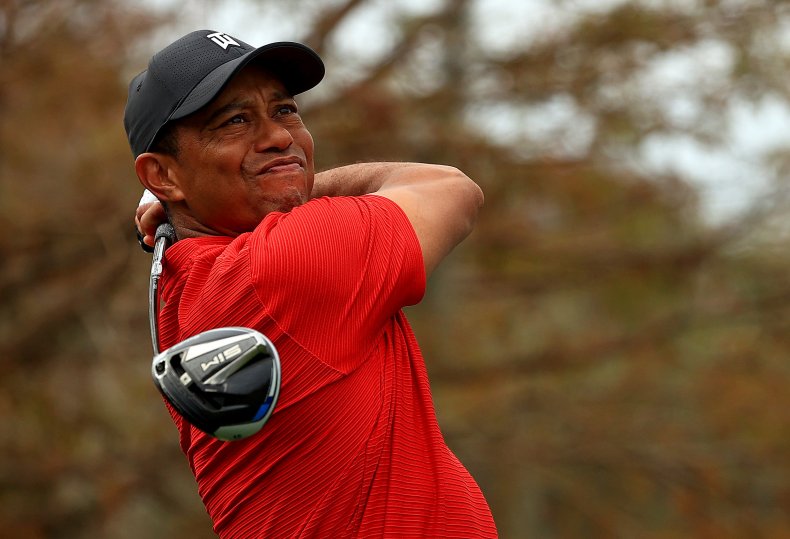 Near the end of April, Woods shared a photo on Instagram that showed him standing with help from a set of crutches on a golf course as he began what he described during a Tuesday press conference as a "much more difficult" recovery than he's ever experienced before.
"I think something that is realistic is playing the tour one day—never full time, ever again—but pick and choose, just like Mr. [Ben] Hogan did. Pick and choose a few events a year and you play around that," Woods told Golf Digest. "It's an unfortunate reality, but it's my reality. And I understand it, and I accept it."
One day after the 37-minute interview was released, Woods appeared at a press conference ahead of the Hero World Challenge in the Bahamas, a tournament Woods is hosting. The 45-year-old told reporters that he doesn't "foresee this leg ever being what it used to be," and he added that the practice schedule and recovery time required for competition was further complicated by growing older.
Woods said his recovery has been "a lot of hard work" but said he has returned from surgeries in the past and "knows the recipe for it."
"I've come off surgeries before and come off long layoffs, and I've won or come close to winning before," he said at the press conference.
Woods suggested he might try to "ramp up for a few events a year" and again mentioned golf legend Hogan as a point of comparison.
"As far as playing at the tour level, I don't know when that's going to happen," Woods said.
He said he might "play a round here and there" and added the U.S. Golf Association (USGA) encourages golfers like him to play forward.
"I really like that idea now," he said.
When reached later Tuesday for comment, the USGA told Newsweek that it will "look forward" to Woods' return.
"Tiger stands among the greatest champions in the game, a nine-time USGA championship winner, and we look forward to the day he returns to the game. But more importantly, we are thrilled to see him recuperating well and able to enjoy swinging a golf club," the USGA said.
Woods also expressed relief Tuesday that "at least" he would be able to play golf once again.
"That's something that, for a while there, it didn't look like I was going to," Woods said. "But I'm able to participate in the sport of golf. Now to what level, I do not know yet."
Update 11/30/21, 1:56 p.m. ET: with comments from the USGA.