Tiger Woods is "awake and responsive" following a horrific car accident on Tuesday, but has suffered "significant injuries" to his right leg as a result of the crash.
"He is currently awake, responsive and recovering in his hospital room," read a statement released on his Twitter account on Tuesday night by his TGR foundation.
"Thank you to the wonderful doctors and hospital staff at Harbor UCLA Medical Center, the Los Angeles County Sheriff's Department, and the Fire Department. Your support and assistance has been outstanding."
In the same statement, Dr. Anish Mahajan of Harbor UCLA Medical Center provided an update on the 15-time major winner, who suffered "multiple open fractures" to his lower right leg, which required screws and pins inserted in his right ankle.
"Comminuted open fractures affecting both the upper and lower portions of the tibia and fibula bones were stabilized by inserting a rod into the tibia," Mahajan, the chief medical officer and interim CEO at Harbor-UCLA, said in the statement.
"Additional injuries to the bones of the foot and ankle were stabilized with a combination of screws and pins. Trauma to the muscle and soft-tissue of the leg required surgical release of the covering of the muscles to relieve pressure due to swelling."
Comminuted fracture is a medical term used to indicate a bone is broken in more than one place, while open fracture means the bone has broken through the skin.
The Los Angeles County Sheriff's Department reported Woods was involved in a one-vehicle crash close to the border between Rolling Hills Estates and Rancho Palo Verdes, approximately 30 miles south of downtown Los Angeles.
Officials arrived on the scene at 7:18 a.m. PT in Rancho Palo Verdes after a neighbor near the crash called 911. Speaking to reporters at a press conference on Tuesday, Alex Villanueva of the L.A. County Sheriff's Department said Woods was conscious and spoke with officials who attended the scene of the crash.
Villanueva added that Woods was driving northbound when his 2021 Genesis SUV appeared to make stray across the two southbound lanes, before hitting a curb and rolling over several times.
He added authorities had yet to ascertain how fast Woods was driving and whether he wore seatbelt when the crash happened, though he noted there appeared to be no skid marks or evidence of braking and explained the airbags "gave him [Woods] a cushion to survive the crash".
Pictures and footage of the wreck which have since surfaced showed Woods' badly damaged SUV at the bottom of an embankment.
"I will say that it's very fortunate that Mr. Woods was able to come out of this alive," L.A. County Sheriff's Department Deputy Carlos Gonzales said.
Gonzales added Woods appeared to be "incredibly calm" despite being trapped inside his vehicle and communicated with the officials while he was being rescued. "Tiger was able to speak to me lucidly," he said.
Woods' condition was described as "serious but stable" by L.A. County Fire Department's fire chief Daryl Osby, who said a pry bar and ax were used to extricate the 45-year-old from the wreckage of his car.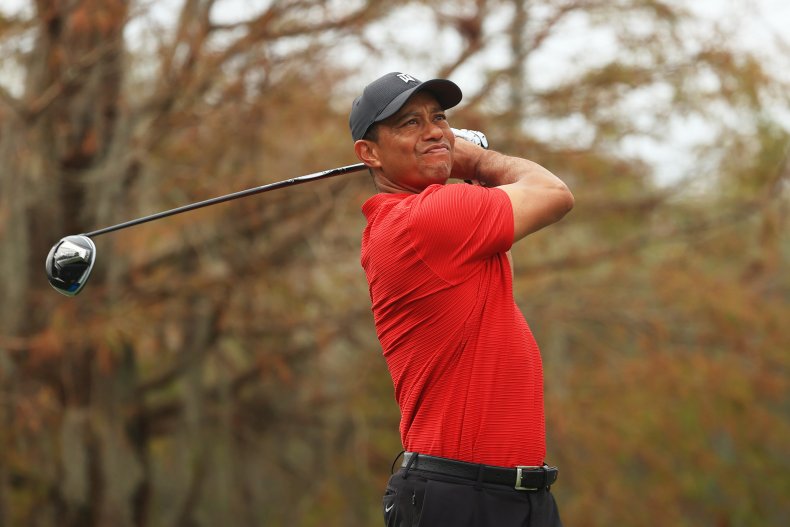 Last weekend, Woods hosted the Genesis Invitational, which is run by his foundation, at Riviera Country Club in Pacific Palisades, California.
During the PGA event, he told CBS' Jim Nantz that he was still recovering from back surgery he underwent on December 23 and remained non-committal over playing at The Masters in early April. Woods also told Nantz he was awaiting results from an MRI before returning to training.
As news of the crash emerged, several sport stars including Serena Williams and fellow golfer Justin Thomas and Ian Poulter wished Woods a speedy recovery.
"It hurts to see one of your—I mean, now one of my closest friends—get in an accident. I just hope he's alright," Thomas said, choking back tears during a press conference.
Former presidents Barack Obama and Donald Trump also sent messages to the 15-time major winner.
"Sending my prayers to @TigerWoods and his family tonight—here's to a speedy recovery for the GOAT of golf. If we've learned anything over the years, it's to never count Tiger out," Obama tweeted.
Trump, meanwhile, sent a message through a former adviser since his Twitter account is banned.
"Get well soon, Tiger. You are a true champion," the statement read according to Jason Miller.
Uncommon Knowledge
Newsweek is committed to challenging conventional wisdom and finding connections in the search for common ground.
Newsweek is committed to challenging conventional wisdom and finding connections in the search for common ground.
About the writer
Dan Cancian is currently a reporter for Newsweek based in London, England. Prior to joining Newsweek in January 2018, he was a news and business reporter at International Business Times UK. Dan has also written for The Guardian and The Observer.