Video: Tiger Woods Has Perfect Response After Watching Clip of Haters and Doubters
Tiger Woods completed one of the greatest comebacks in sports history by winning a fifth Masters title on Sunday.
Eleven years since his last triumph at a major and 14 years since he had last donned the Green Jacket, Woods finished one shot ahead of Dustin Johnson, Brooks Koepka and Xander Schauffele to secure a 15th major.
It was a remarkable redemption for Woods and silenced the many doubters who thought his best days were way behind him.
After his triumph at the Augusta National Golf Club in Georgia, a clip posted on Twitter by the popular golf account Skratch went viral.
The video showed Woods watching a compilation of pundits and fans dismissing his chances of a comeback.
The verdicts verged from him being classified as "finished" to suggestions he should "retire with some dignity" and admit he couldn't compete with his younger rivals such as Johnson, Justin Thomas and Jordan Spieth.
The clip was originally posted in September 2018, after Woods won his first tournament since 2013, and became even more relevant after he reclaimed the Green Jacket on Sunday.
Throughout the video, Woods's expression barely changes, and he only allows himself a slight smirk at the end.
In fairness to his critics, not even Woods himself believed he would ever taste success again; as little as two years ago, he admitted to close friends that he was "done" with golf.
With his public persona tarnished by the revelation of his extramarital affairs, Woods' golfing career embarked on what seemed an inexorable decline as back injuries took their toll.
Woods went from being the number one golfer in the world in May 2014 to being ranked 1,199 in December 2017, and was left almost unable to tie his shoelaces after undergoing three back surgeries.
In 2017, however, the California native underwent a fourth procedure, as surgeons fused two discs together in his spine. The operation completely changed his life.
"I had serious doubts after what transpired a couple years ago,'' he told ESPN. "I could barely walk. I couldn't sit. Couldn't lay down. I really couldn't do much of anything.
"Luckily I had the procedure on my back, which gave me a chance of having a normal life. But then all of a sudden I realized I could actually swing a golf club again.
"To have the opportunity to come back like this, it is probably one of the biggest wins I've had, for sure, because of it.''
Following the surgery, Tiger embarked on what then seemed an impossible comeback following a six-month recovery.
In March last year, he recorded his first top-five finish in a PGA event since 2013 at the Valspar Championship in Florida, before finishing tied sixth at the Open and second at the PGA Championship.
In September, he won the Tour Championship to clinch a first win in five years, and then achieved what many, himself included, thought impossible by winning the Masters.
Those who featured in the clip have been left eating their words.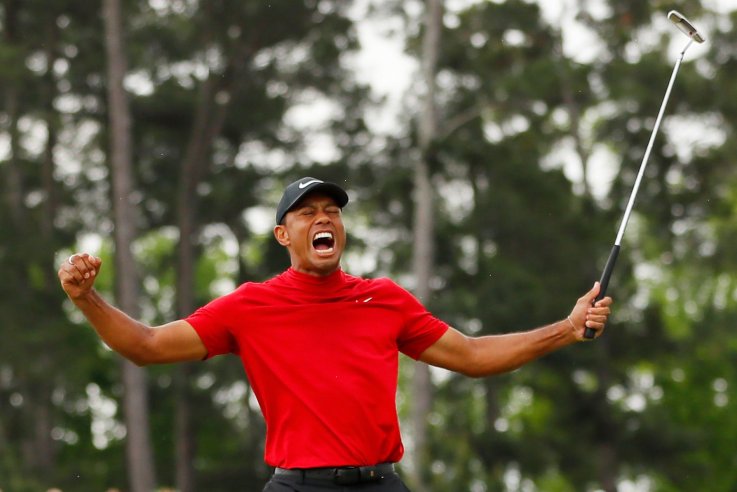 Video: Tiger Woods Has Perfect Response After Watching Clip of Haters and Doubters | Sports