Tiger Woods Saved by Air Bags In 'Potentially Fatal' High-Speed Crash, Suffers Multiple Leg Injuries
Professional golfer Tiger Woods' life was saved in Tuesday's crash by car air bags, however his legs were seriously injured.
Los Angeles County Sheriff Alex Villanueva revealed the extent of the damage to Tiger Woods' SUV in the crash, describing the accident as potentially fatal.
"The interior, the cabinet of the vehicle was more or less intact. The front end was totally destroyed, the bumpers, everything totally destroyed, airbags deployed, all of that. However, thankfully the interior was more or less intact, which kind of gave him the cushion to survive what otherwise would have been a fatal crash," Villanueva said, adding that Woods was also wearing a seatbelt.
L.A. County Fire Chief Daryl Osby said that Woods was conscious at the scene of the crash. Woods' legs had suffered serious injuries, and he was unable to stand, according to Sheriff's Deputy Carlos Gonzalez, the officer who first arrived on the scene. Woods was put on a back board to transport him to the hospital, Gonzalez added.
"I asked what his name was, he told me his name was Tiger. And at that moment I immediately recognized him. I asked him if he knew where he was, what time of day, to make sure he was oriented. He seemed as though he was lucid and calm," Gonzalez said. "He didn't seem concerned about his injuries at the time, which is not uncommon in traffic collisions. Many times people tend to be in shock. It's a traumatic experience. It's not uncommon for people to be focused on unimportant things or even if they are in pain, they may not feel it until much later."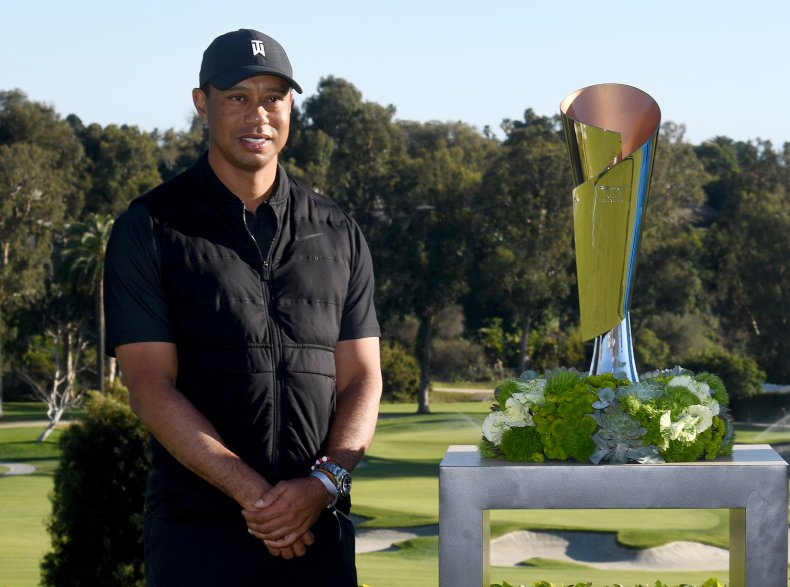 The golfer was travelling at a "high rate of speed," and no skid marks were seen at the scene of the crash. Police said there was no evidence of impairment. The crash happened on a downhill slope in Ranchos Palos Verdes, California, a wealthy Los Angeles suburb.
Though he declined to say how fast Woods was traveling, Gonzalez said that he has seen people driving as fast as 80 mph in the area, which has a high rate of accidents. Villanueva also pointed out the high accident rate in the area, as the road "is downhill, it slopes and also it curves."
Woods' SUV first hit the center median on the road, Villanueva said.
"From there, [the SUV] then crossed into the opposing lane of traffic, hit the curb, hit a tree, and there were several rollovers during that process," he added.
Woods was transported to Harbor-UCLA Medical Center, according to the Fire Department. The golfer was undergoing leg surgery, his 10th surgery of his professional career, according to the Associated Press.
This is Woods' third incident involving an automobile. The golfer hit a tree after running over a fire hydrant on the day after Thanksgiving in 2009. In May 2017, Woods was arrested on a DUI charge after police found him parked on the side of the road, asleep behind the wheel. Woods plead guilty to the charge, and said the incident was a reaction to prescription medicine he was taking for back pain, according to the Associated Press.
Newsweek reached out to Woods' company, TGR Ventures, for comment.