Tiger Woods Shares First Photo Since Gruesome California Car Crash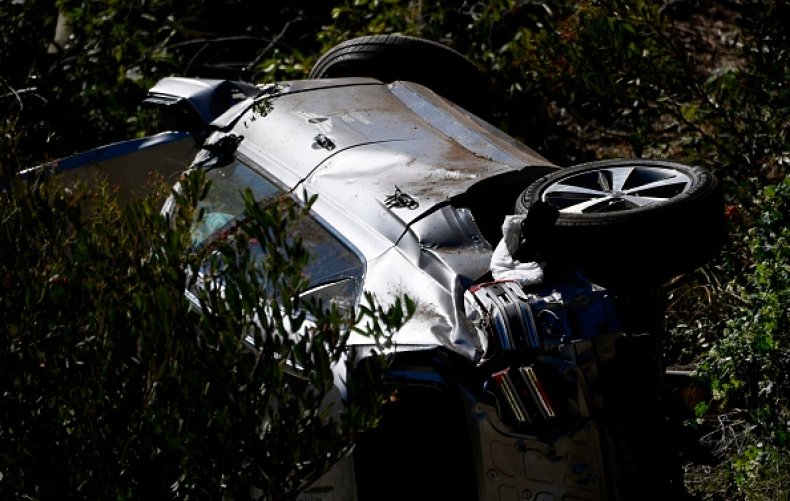 Legendary golfer Tiger Woods had a vehicle crash in February that could have easily taken his life. Two months later to the day, Woods shared a photo of himself and his pup through social media.
Woods on February 23 had a brutal SUV wreck on a Tuesday morning in California. He suffered compound leg fractures, and his status had been unknown at the time. Since then, the Masters in Augusta has taken place, as have other PGA tournaments.
Tiger on Friday sent this media message that states he's doing ok, and that he's glad to be back on the links.
"My course is coming along faster than I am 😃. But it's nice to have a faithful rehab partner, man's best friend," Woods wrote on Instagram.
Not long after his crash on that Tuesday morning outside of Los Angeles, former presidents Barack Obama and Donald Trump both wished Woods well in his recovery.
Here's what Obama tweeted the evening of the wreck.
"Sending my prayers to @TigerWoods and his family tonight—here's to a speedy recovery for the GOAT of golf. If we've learned anything over the years, it's to never count Tiger out," Obama tweeted.
Note: GOAT is short for the Greatest Of All Time
Trump sent a message through a former adviser since the 45th president's Twitter account is banned. Here's what it said on Jason Miller's social media.
"Get well soon, Tiger. You are a true champion!"
Woods actually won his 82 tournaments and 15 major championships through a span of four U.S. presidents, which also included Bill Clinton and George W. Bush.
Woods had multiple leg injuries, and he was taken to a local hospital for surgery. He was the only occupant in the vehicle, according to local authorities.
The Los Angeles County Sheriff's Department said Woods' crash happened around 7:12 a.m. Tuesday morning in Rancho Palos Verdes, California.
Woods, 45, struck a median at a high rate of speed, and his car rolled several times. Capt. James Powers of the Los Angeles County Sheriff's Department said the "jaws of life" were not used to extricate Woods from his vehicle.
Woods had recently co-hosted the Genesis Invitational, a PGA tournament at Riviera Country Club in Pacific Palisades. Woods had back surgery in December, and he told CBS' Jim Nantz on the Sunday prior to the wreck that he wasn't sure if he'd be ready to play the Masters tournament in April.
Woods was reportedly teaching celebrities in Southern California to become better golfers as well. He was headed to work with NFL quarterbacks Drew Brees (New Orleans Saints) and Justin Herbert (Los Angeles Chargers) on Tuesday when he had his crash.