Tiger Woods Vs Phil Mickelson: $10m Head-to-head Set for Thanksgiving Weekend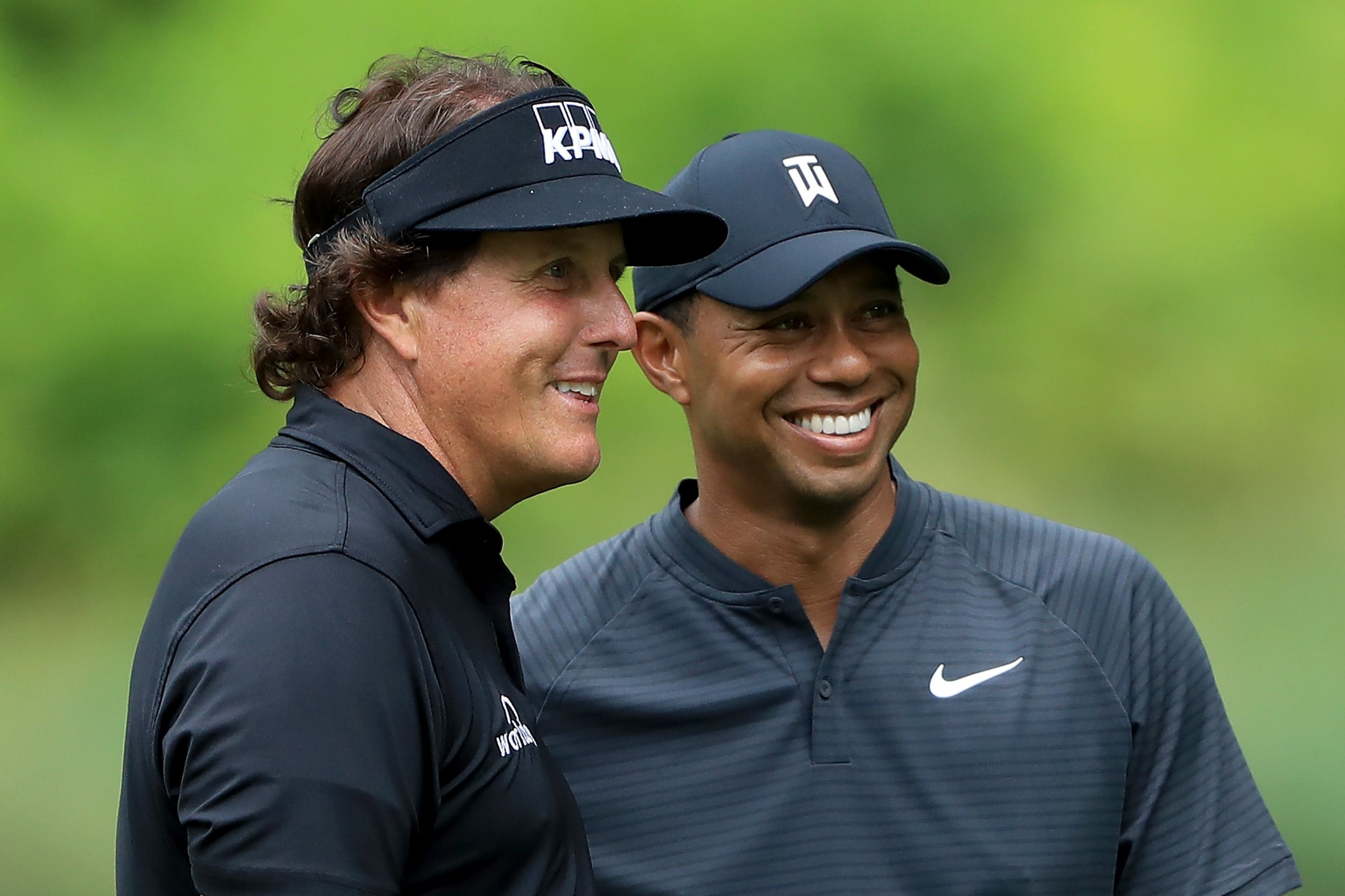 The highly anticipated head-to-head between Tiger Woods and Phil Mickelson has reportedly been pencilled in for November.
Mike Greenberg, host of ESPN's Get Up show, reported on Thursday that the event will take place on Thanksgiving weekend at the Shadow Creek Golf Course in Las Vegas. The date of the showdown is yet to be determined but it is understood it will be either Friday, November 23 or the following day.
The weekend marks the beginning of the traditional period that sees them have six weeks off between the middle of November until the beginning of January.
Last month, it emerged the two golfing greats had agreed to play a round of golf one-on-one for what has been reported to be a $10 million purse for the winner.
"It's a ridiculous amount of money," Mickelson told Golf.com at the time. "No matter how much money you have, this amount will take both of us out of our comfort zone.''
The duo, who have won a combined 19 majors between them, have developed from rivals during their junior golf days to be on very cordial terms. Mickelson and Woods have played plenty of practice rounds together, including one on Wednesday ahead of the WGC-Bridgestone Invitational at Firestone.
Both are also involved in the committee for this year's Ryder Cup, with Woods already named to be coach Jim Furyk's vice-captain. The top eight golfers after next week's PGA Championship will qualify for the Ryder Cup, which takes place between September 28-30 at Le Golf National in Saint-Quentin-en-Yvelines, on the outskirts of Paris.
Woods and Mickelson, who has played in 11 consecutive Ryder Cups, are 20th and 10th respectively in the Ryder Cup rankings and both remain in with a chance of making the team.
Woods finished tied for sixth at The Open Championship last month, claiming his first top-10 finish at a major since 2013. Woods rolled back the years at The Open, shooting a five under par 66 on Saturday and taking the lead after completing the first nine on Sunday at two under par. A double-bogey and a bogey at the 11 th and 12 th hole respectively accounted for his chances of winning the Claret Jug for the third time, but it continued a remarkable return to form.
All eyes will be on Woods at the WGC-Bridgestone Invitational , a tournament which he has won eight times.
Mickelson, meanwhile, brought a five-year drought on the PGA circuit to an end by winning the WGC-Mexico Championship.