Tijuana Building Fence to Contain Migrant Camp's Spread as Around 1,500 Await Entrance to U.S.
Tijuana, Mexico, announced plans to build a fence around the perimeter of a migrant camp to help contain the spread of the roughly 1,500 people at the site who are awaiting entrance to the U.S.
An estimated 40 percent of the migrants at the camp, located just south of the San Ysidro Port of Entry, are children according to a Tijuana social agency.
The Southern border has seen a surge in unaccompanied minors ever since President Joe Biden announced that rather than send these children home, his administration would transfer them to federal shelters and then to relatives in the U.S. while their cases are pending.
This particular campsite in Tijuana also saw an influx in migrants a little over a month ago when Biden announced that asylum seeker stuck in Mexico due to the Migrant Protection Protocols program would be allowed to enter the U.S.
Under the MPP, certain foreign persons entering the country from Mexico—illegally or without documentation—may be returned to Mexico while awaiting their immigration proceedings. The Department of Homeland Security says those individuals will be provided with "all appropriate humanitarian protections for the duration of their stay" by Mexico.
But the site is now attracting migrants that don't have asylum cases pending, who hope that the border will eventually welcome all migrants seeking asylum, even those who are not part of the program.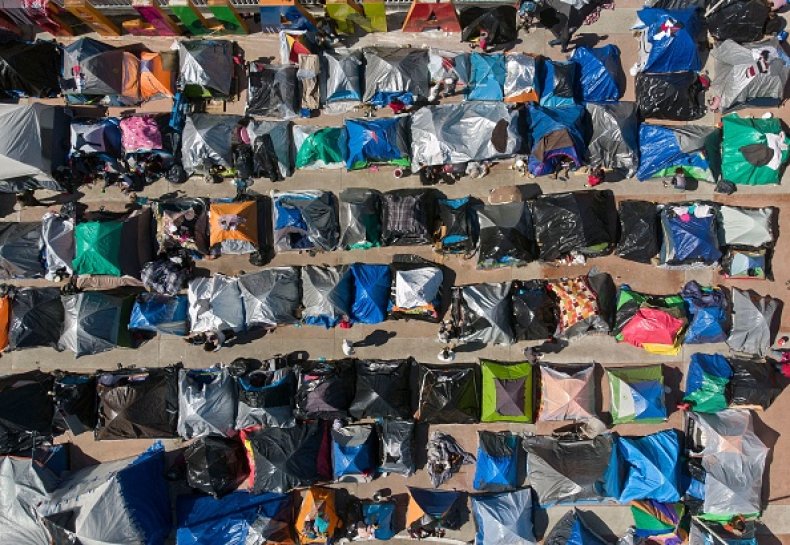 Tijuana city officials have said they've been concerned with the size of the camp for weeks, especially given the coronavirus pandemic.
Migrants at the camp, however, told the Border Report that they're unhappy about the city's plan to fence in the campsite, saying they are being treated "like cattle."
"President Biden said he was going to let us in, he needs to keep his promise as president and as a man. It's like he's going back on it and like 'I don't want them anymore,'" Nicolas Diego from Guatemala told the Report.
"I'm not going to talk about [the fence], all I care about is going to the other side legally," he added. "If they don't give us a chance, I think we're going to choose second option which is jumping the border."
Many migrants have been stuck in Mexico for months and years due to the policies used by the Trump administration to deter people from requesting asylum. There has also been confusion among migrants that once Biden took office.
Those at the campsite who are not signed onto the MPP falsely believe they too would be allowed into the U.S. But without an active immigration case, the only way for these individuals to request protection is to cross illegally and hope they might be released instead of returned.
Newsweek reached out to the city of Tijuana for comment but did not hear back before publication.