In TikTok '15 Minutes' Challenge, Users Are Sharing Results from an Online Depression Test
TikTok users are sharing results from an online stress test as part of a new social media challenge on the popular mobile app.
Set to the song "Train Wreck" by English pop singer James Arthur, users are uploading an image of personalized results from the online service "15minutes4me," which claims to give insights on levels of stress, depression and anxiety based on a free survey.
Google analytics suggest that the trend has surged significantly in popularity among the TikTok community inside the U.S. over the past week.
Associated hashtags on the app have been viewed over one million times collectively at the time of writing. The hashtag 15minutes4me has attracted more than 670,000 views, while the related term 15minuteschallenge has gained closer to 40,000 views.
Broadly, users have shared the results alongside captions stressing the importance of maintaining mental health and providing support for friends or family members.
"Always check up on people, you never know who needs it the most. You don't know what people are going through," read one TikTok post, a comment that was liked more than 900 times. "Always check on your closest friends you never know what they are going through," posted another TikTok user, liked 420 times at the time of writing.
Available online, the 15minutes4me survey is based around a self-assessment questionnaire that seeks to determine a snapshot of a person's current mental health condition, eventually offering participants entry into a paid self-help program that could help deal with issues including self-confidence, panic attacks and anxiety.
According to its website, the program was created by a company called Coachteam that was founded by Paul Koeck, MD, described as a physician, researcher and author. The site claims the test was made by doctors and based on "scientific studies."
Viral challenges are central to the TikTok experience, typically including users sharing a picture or video of themselves alongside a message, set to music. The hugely popular app has approximately 100 million monthly active U.S. users, statistics suggest.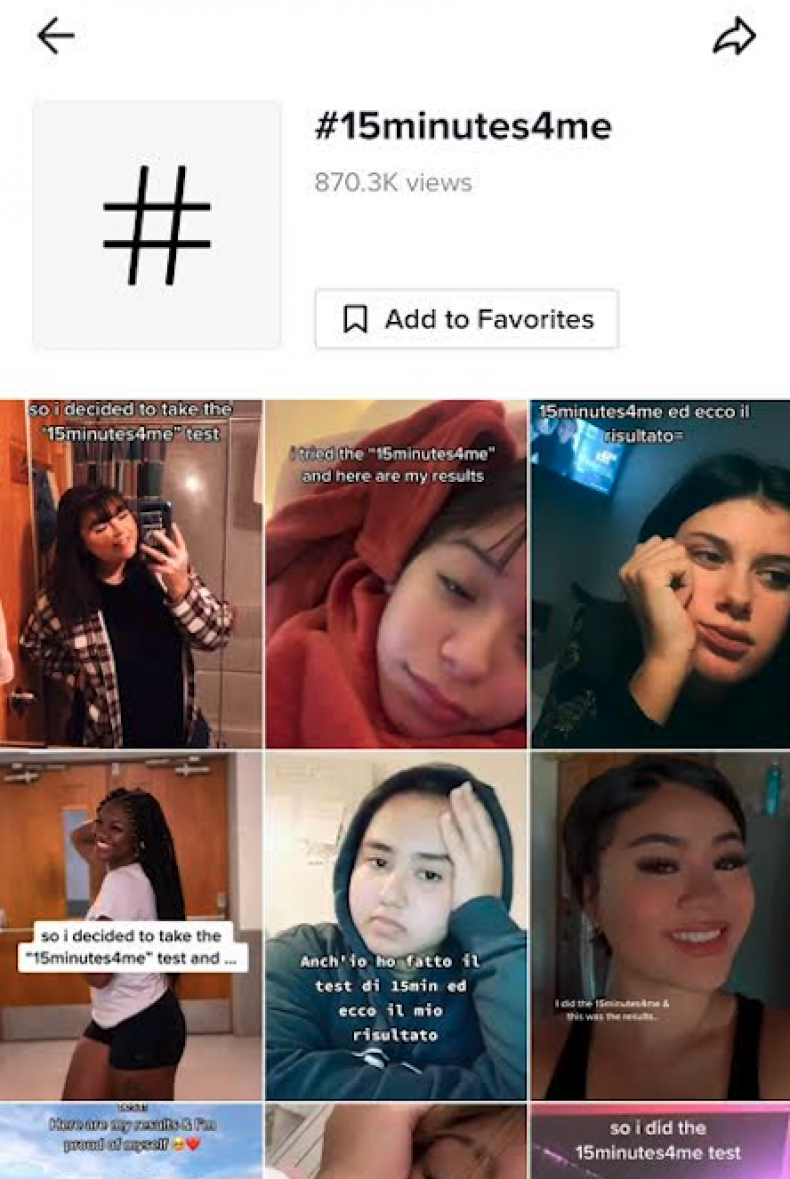 This year, the app faced intense political pressure from the Trump administration over its Chinese ownership, with officials claiming—often without providing solid evidence—that the involvement of Beijing firm ByteDance was a national security risk.
Despite repeated threats of a ban in the U.S., the app remains active—for now. Last Friday, a Pennsylvania judge blocked an order from the Commerce Department that would have placed restrictions on the app starting November 12, Reuters reported.