Laughter As Dog Almost Kills Woman's Boyfriend in the 'Most Innocent Way'
A rescue dog called Sandy has left the internet in stitches after a video of her accidentally almost choking her owner's boyfriend while sleeping on his face went viral on social media.
In the video, shared on TikTok Friday by the dog's owner under the username Accidentalgrandma, Sandy—who was rescued from the streets of Texas over a year ago—can be seen laying on her owner's boyfriend's face, preventing him from breathing from his nose.
The hilarious post came with a caption that read: "My dog almost killed my boyfriend in the most innocent way," followed by: "This video will never get old, the way she stretches out after has me cracking up."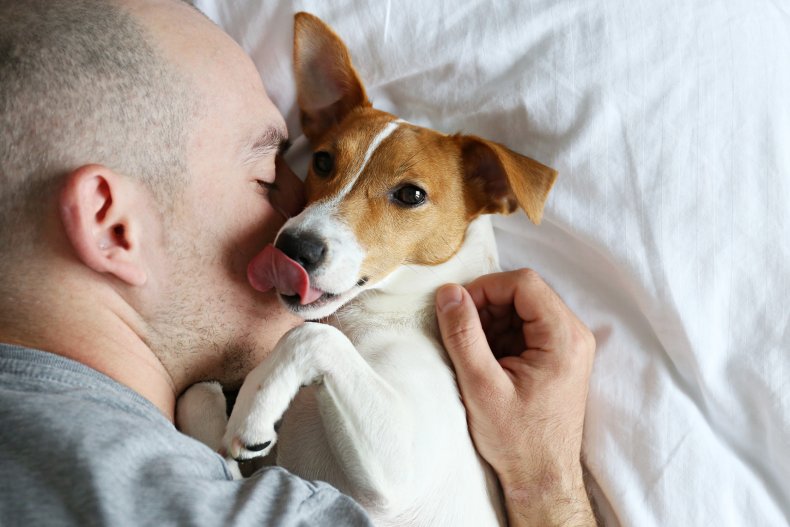 Sandy's attempted choking was innocent and very much not intentional. According to dog wellness experts Wag Walking, dogs are unable to be motivated by spite.
Their website states: "Dogs aren't able to process emotions like spite or vindictiveness. Those emotions are too complex for animals that are stimuli-responsive. Dogs react to what we do and the situations put in front of them—they're unable to plot or plan any vindictive behaviors simply because you left them alone too long.
Moreover, Wag Walking added that when your dog comes to you with a "guilty face," it's not because they know their actions were wrong, but because of the way you reacted.
The Accidentalgrandma post quickly gained popularity on social media, attracting animal lovers from across TikTok. It has so far received over 10.6 million views and 1.6 million likes.
One user, Heippan, commented: "Relaaax... don't be afraid... just sleeeeep....." And JG said: "Not you filming the whole thing without helping." mandee added: "THE WAY YOU JUST RECORD HIM SLOWLY DYING LMFAOOOO."
Meghety dono wrote: "Dogs was probably thinking: I'm cute no one will suspect anything." And Julie said: "Honestly seems like the best way to go."
Another user, Kate Crosby, commented: "Sir I'm afraid you have sleep pupnea." And Mikey added: "Remember when it was just the two of us? Those were good times. Now look away." Thania said: "he can still breathe through his mouth, he's fine."
Krystal wrote: "in my dream I was suffocating and drowning and when I woke up it was bc my dog was sleeping on my neck and I couldn't breathe." And Livvy joked: "She loved me first.. shh shh shh"
My Attempted Creations said: "He was trying to get rid of the competition." And Tiffany added: "Smothered with love."
Newsweek reached out to Accidentalgrandma for comment. We could not verify the details of the case.
Do you have funny and adorable videos or pictures of your pet you want to share? Send them to life@newsweek.com with some details about your best friend and they could appear in our Pet of the Week lineup.