Is TikTok About to be Banned or Shut Down in the U.S.?
Speculation about an imminent ban on the short video app TikTok has surged this week as users turn to the internet for answers.
Analytics from Google Trends indicates that searches for a variety of questions about the app have spiked over the past 24 hours, with people asking if the Chinese-owned platform will be banned, deleted or shut in the U.S. in the coming days.
Rumors about enforcement by the Trump administration have swirled on social media—including TikTok, Instagram and Twitter—after U.S. secretary of state Mike Pompeo claimed officials were "looking at" the risk to national security.
Yesterday, President Donald Trump confirmed Pompeo's statement was accurate, saying in an interview with Gray Television: "It's something we're looking at.
"It's a big business. Look, what happened with China with this virus, what they've done to this country and to the entire world is disgraceful," Trump went on to say, Bloomberg reported, indicating the action would be retaliation for the COVID-19 pandemic.
On TikTok, user Laura Lee Watts posted a video to her 1.9 million followers about the rising chatter yesterday, saying she doesn't believe it will happen.
"When an app is downloaded over 100 million times in a year it is bound to face security and privacy issues, but TikTok as an app is very dedicated to protecting our privacy," she said, noting how it claims to store user data in the U.S. and Singapore.
The clip, not labeled as being sponsored but largely echoing the company's main talking points on the subject, has been watched more than 1.1 million times, liked more than 400,000 times and has attracted more than 10,000 comments.
Another video on the subject, by a user with the handle "realscamlikely" and titled "The real reason Trump is banning TikTok," has been clicked over 700,000 times.
"On TikTok, they can't buy political ads, they can't control trending topics, most users are Gen-Z/millennials, the largest voting bloc in our country, they want to silence you," reads the caption in the clip, which has been liked more than 200,000 times.
On Tuesday, as rumors about a ban mounted, gossip profile "TikTok Room" shared the news to another million-plus followers, prompting a flurry of responses.
TikTok, largely focused on short form musical content, is owned by a company based in Beijing called ByteDance, although the version in China is called Douyin. Since May this year, it has been led by former Disney streaming executive Kevin Mayer.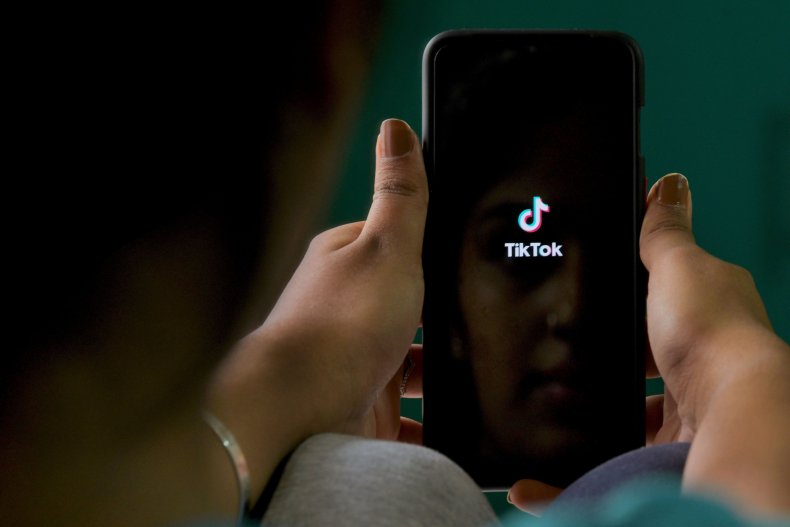 In comments during The Ingraham Angle on Monday, Pompeo said the U.S. was now "looking at" TikTok, citing prior action against China's Huawei and ZTE.
"We have worked on this very issue for a long time, whether it's the problem of having Huawei technology in your infrastructure... we had declared ZTE a danger to American national security. We have done all of these things," Pompeo told the Fox host. "I don't want to get out in front of the president but it's something we are looking at."
His comments came after India banned TikTok and dozens of other apps amid concerns about national security and unwanted data collection. On Tuesday, Reuters reported the U.S. was now probing allegations that TikTok had violated children's privacy.
Yesterday, columnist and author Gordon Chang added more fuel to the fire, telling Fox News in an interview: "I think sometime this week we will hear an announcement from the Trump administration banning TikTok and possibly other Chinese apps."
The company has not confirmed if it is facing such pressure.
In an statement earlier this week, a TikTok spokesperson rejected U.S. criticism, saying: "TikTok is led by an American CEO, with hundreds of employees and key leaders across safety, security, product, and public policy here in the U.S. We have no higher priority than promoting a safe and secure app experience for our users. We have never provided user data to the Chinese government, nor would we do so if asked."
TikTok has been contacted by Newsweek about the possibility of a U.S.-led ban, which could impact tens of millions of users based in the U.S. if it were to go ahead.
The following graphic, provided by Statista, shows the countries where TikTok has been downloaded the most. It is based on app download figures as of June 30 this year: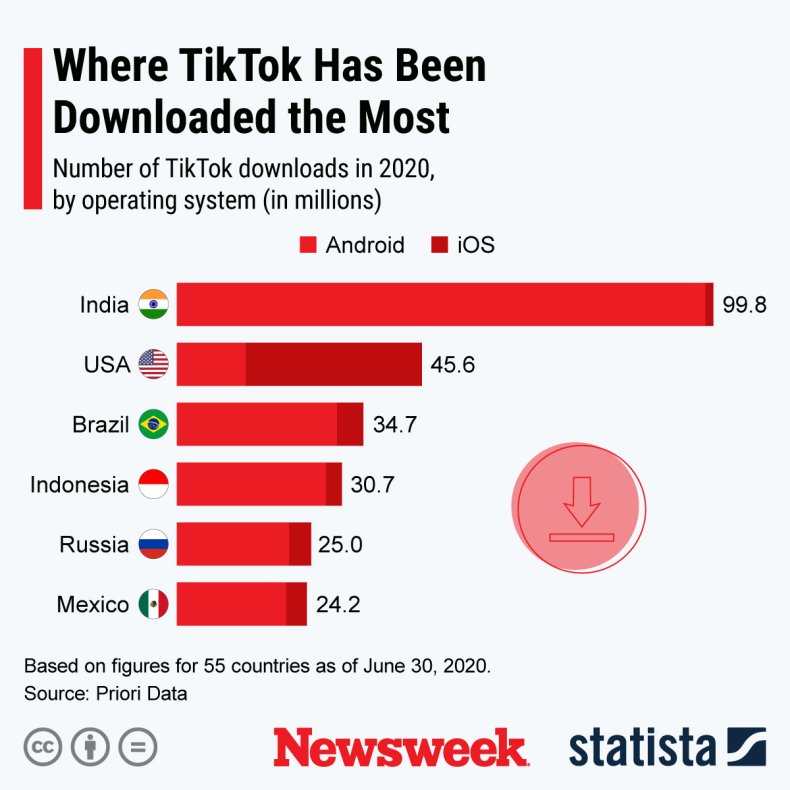 Update 7/10/20: This article was updated to include an infographic.