TikTok Bans YouTuber Baked Alaska Following U.S. Capitol Riot Arrest
Anthime Joseph Gionet, a far-right social media personality known to his followers and fans as Baked Alaska, has officially been booted off of TikTok. When viewers go to search for Gionet's TikTok page, a message now reads: "Couldn't find this account."
TikTok confirmed to Newsweek Gionet was banned from the app on Friday for violating the social media site's rules pertaining to the incitement of violence.
"TikTok stands firmly against hateful behavior and violence, both online and off. We remove content and accounts that glorify or incite violence or promote violent groups or militias, and we redirect related hashtag searches to our Community Guidelines. TikTok exists to inspire creativity and bring joy, and protecting the safety of our community is central to that," a TikTok spokesperson said in an email statement.
Gionet is among a number of alt-right figures who have been banned from TikTok in light of the riot at the U.S. Capitol. Patrick Casey, believed to be the leader of the white supremacist group Groyper, was prohibited from TikTok on Thursday along with America First podcaster Nick Fuentes, who had used the platform to express white supremacist views.
The TikTok ban is just the latest for Gionet, who was kicked off of YouTube in October after sharing videos of himself harassing grocery store workers when they requested he wear a mask. Then in November, Twitter permanently banned Gionet's account noting the social media site's policy against "repeated and/or or non-consensual slurs, epithets, racist and sexist tropes, or other content that degrades someone," according to BuzzFeed News.
Gionet was one of the many people who participated in the mob-style insurrection at the Capitol in support of President Donald Trump on January 6. He shared a live stream of himself among the crowd of rioters on DLive, a streaming service that's since gained traction with conservative and alt-right figures after Twitter and Facebook banned many of their accounts and Parler shut down.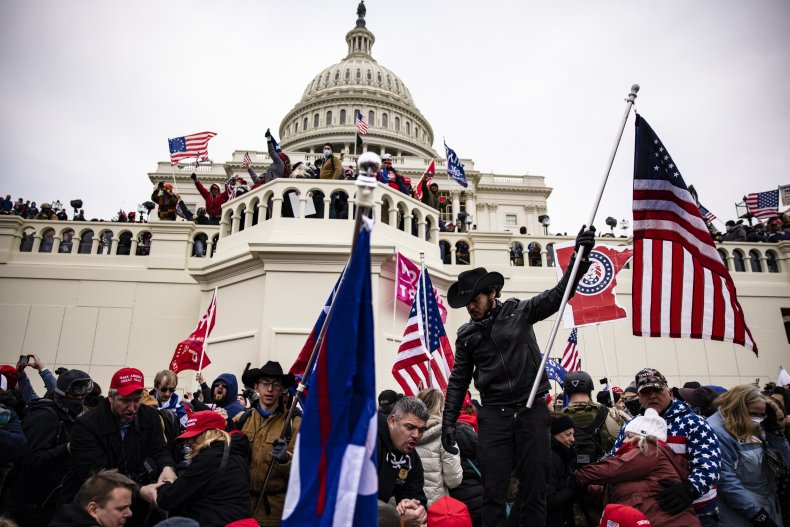 FBI agents arrested Gionet in Houston on January 15. He was among the many to be charged with offenses including knowingly entering or remaining in any restricted building or grounds without lawful authority and violent entry and disorderly conduct on Capitol grounds, according to the Department of Justice's website.
Gionet's posts on social media have already been included in his cases along with a 27-minute video in which he confirmed his presence inside the Capitol building. FBI agent Nicole Miller released the video in a court filing, according to The New York Times, in which Gionet chanted, "Patriots are in control."
"We are in the Capitol building, 1776 will commence again," he continued.