TikToker Dancing to 'Underrated Beyoncé Song' Goes Viral
One TikToker has gone viral after trying to give an "underrated" Beyoncé song props by creating his very own choreography for it.
Dancer Murphy Wright from Birmingham, Alabama, posted a tribute to the track, "America Has a Problem," from Beyoncé's Grammy Award-winning album Renaissance.
In the TikTok footage, the 22-year-old dons a pair of sunglasses to perform the routine on a section of outdoor decking. The video quickly went viral on social media, racking up more than 475,000 views on the social-media platform.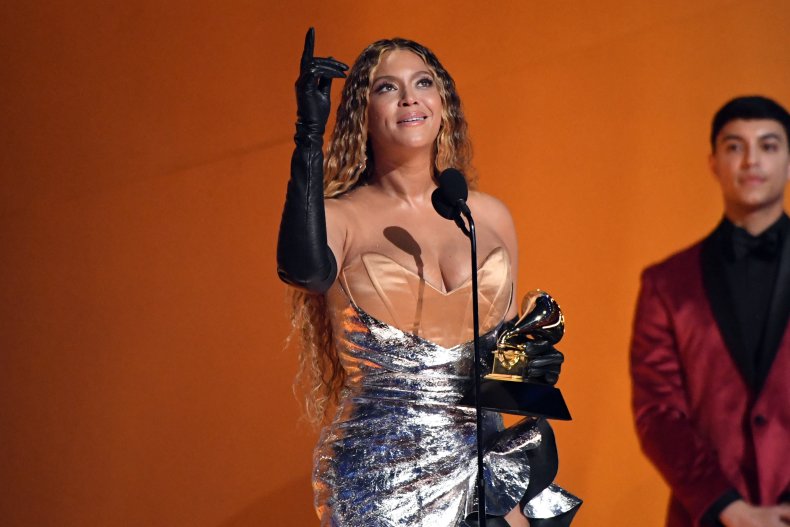 It went viral again on Twitter when it was shared by a Beyoncé fan account, which wrote "seeing an underrated Beyoncé song go viral on tiktok is truly most pleasing to me."
That tweet had more than 85,000 views, but those responding were divided about the dance.
"America Has a Problem deservers the spotlight cuz it's good and i love it omg finally," tweeted one person.
Another questioned: "America Has A Problem is underrated????????"
And a third wrote: "I don't know if that's Evan Peters, Michael Cera, or Tom Holland but whoever it is...NO."
Newsweek reached out to Wright for comment about his viral video.
Beyoncé is no stranger to viral dance trends after the "Cuff It" challenge was one of the most popular of 2022. The hashtag now has 985 million views.
The challenge saw a person or group of people pull off a simple piece of choreography from the song, which also features on the album Renaissance.
Even celebrities got in on the action. Former Pussycat Doll Nicole Scherzinger led a group of stars including Luke Evans, Olly Murs, Beverley Knight and LeAnn Rimes to complete the dance in a service elevator. Her TikTok post managed to get 23 million views.
Beyoncé cleaned up in a grand manner at this month's Grammy Awards, including a win for "Cuff It", which snagged the prize for Best R&B Song.
The 41-year-old also won Best Dance/Electronic Recording ("Break My Soul"), Best Dance/Electronic Album (Renaissance) and Best Traditional R&B Performance ("Plastic Off the Sofa").
Beyoncé won the most awards at the February 5 ceremony at the Crypto.com Arena in Los Angeles. She became the most highly awarded Grammy winner, with a career total of 32 Grammys. This beat Hungarian-British conductor Sir Georg Solti's previous record.
These were not the only records she broke on the night. She was top nominee for the year with nine nominations, but she also increased her career nomination total to 88. This put her in a tie with her husband, Jay-Z, 53, for the most Grammy nominations received by an artist.