TikTok Captures Moment 89-Year-Old Pizza Delivery Man Gets a $12K Tip
A Papa John's pizza delivery man who became beloved by the internet received the tip of a lifetime this week. Derlin Newey, an 89-year-old delivery driver in Roy, Utah, won over the hearts of TikTok users after his joyful pizza deliveries were shared on the app. Together, viewers raised over $12,000 to tip the man for his kindness.
TikTok user @vendingheads, real name Carlos Valdez, posted a series of delivery videos featuring Newey's tag line "Hello, are you looking for some pizza?" he says as the door opens. It's clear in the TikToks that the Valdez family knows Newey well. They request him as their delivery man, and in one TikTok, Newey even jokes he's visiting their house for the 1,000th time.
But what Newey didn't know was that he had even more fans than the Valdez family.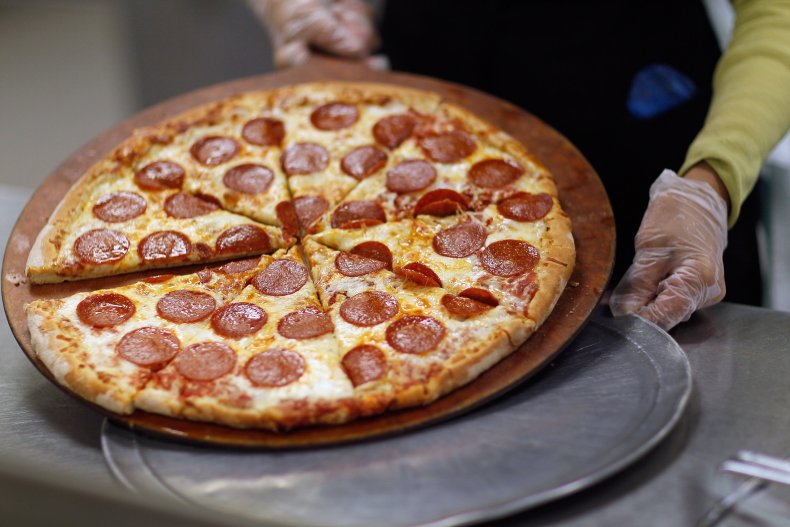 Valdez made a special delivery to Newey's house with a $12,000 check. The man assumed maybe the surprise gift was a T-shirt with his catchphrase on it, merch which Valdez has created for his TikTok viewers. But the check caught him off guard.
At first, Newey didn't know what the gift was. When the Valdez family explained, he was uncertain. "No," he started. "Why would you do such a thing?"
Tearfully, he opened the gift. "How do I ever say thank you?" he said. "I don't know what to say." In a video interview with KSL5TV, Newey revealed he still works at 89 because his Social Security checks aren't enough to live on. To make up for the lack of funding, he works 30 hours a week at Papa John's.
When Valdez explained where the huge tip came from, Newey didn't know what TikTok was. "You communicate with each other through the telephone?" he said.
And even though Newey's $12,000 check has been delivered, Valdez is still collecting donations for the man. Since his story went live, TikTok users and Twitter users have run to give more funding through Valdez's Venmo account.
Giving large tips isn't a new trend on TikTok. For some time, users have filmed their acts of kindness and solicited other TikTok users to pitch in for food service workers who are going above and beyond to bring joy to each encounter. But there is something unique about Newey's story. Over time, he's grown close with the Valdez family through their deliveries. Their relationship speaks to community and reaching out to show appreciation for the essential workers who spend their days helping others.
TikTok Captures Moment 89-Year-Old Pizza Delivery Man Gets a $12K Tip | Culture