TikTok Captures Moment Lightning Strikes Building Before Fire Breaks Out
A shocking TikTok video of the moment a powerful bolt of lightning hit a 26-story building and started a fire has gone viral online.
According to a report from Euro Weekly News, a fire broke out on the roof of the Balcón de Poniente Building – Torre II in Avenida Uruguay on Monday during the intense storm. Firefighters and emergency responders believe that the fire started after lightning struck a metal structure on the building.
TikTok user @raulvandervall captured the frightening moments the building was hit by lightning. Nearby viewers scream in terror as several bolts of lightning break across the sky.
When the bolt makes contact with the building, it appears as though part of the building ignites and falls to the ground hundreds of feet below.
The person filming even exclaims in fear, "Oh my God, how horrible!"
The video has been viewed over 2.3 million times and received over 315,000 likes. Many viewers comment with concern for those in and around the building that was hit.
"I wonder how the people in the top building reacted," one TikToker wrote. "Imagine the reaction of a person living there," another added.
Many tried to find humor in the scary situation, drawing pop-culture comparisons to superhumans Thor the God of Thunder and The Flash, Disney's The Tower of Terror, and Eren Jaeger from Attack on Titan.
While some viewers expressed frustration at the audible screaming, others showed sympathy and even shared their own terrifying storm stories.
"I don't know about you, but I would be screaming too if I saw anything get struck by lightning," one commenter noted.
"Lightning hit near my house once I'm traumatized," another shared. "Every time I know there's a storm coming I get all shaky."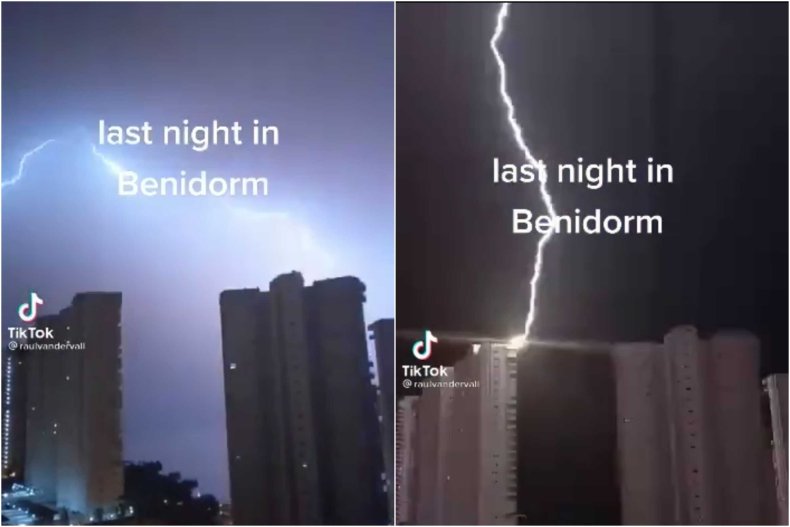 Euro Weekly News reported that Benidorm's local police and firefighter crews arrived at the scene once the fire started just after midnight.
"Upon arrival at the site, the emergency services verified that the fire was located on the twenty-sixth-floor roof of the building," a firefighter representative told The Leader.
"The fire was affecting a battery of individual gas meters, and immediately the Fire Department, in close collaboration with the Local Police officers, quickly controlled the fire."
Though responders feared a potential gas explosion based on the damage sustained to the gas meters, there were no casualties and building damage was minimal, The Leader reported.
Back in March, a woman in North Carolina watched a bolt of lightning strike just 50 yards away from her. When recalling the incident, she said, "It was an amazing experience and honestly I did not think about how lucky myself and my parents were until after looking at the video."