Sassy Cat Refuses to Exit House Through Cat Flap: 'Attitude'
A white cat's hesitancy to exit his owner's house via the cat flap has left pet lovers in hysterics.
Shaan Singh Renoo from London in the U.K. captured the moment his feisty feline Angie demanded to be let out the back door rather than through the special gateway they had installed specifically for her use.
In a video shared to social media under the handle catgamesfamily, Angie can be seen meowing repeatedly at her owner to open the back door.
After these demands fall on deaf ears, she ends up being marched over to the cat flap, but is still hesitant to use it, preferring the luxury of having her human companion open the door for her.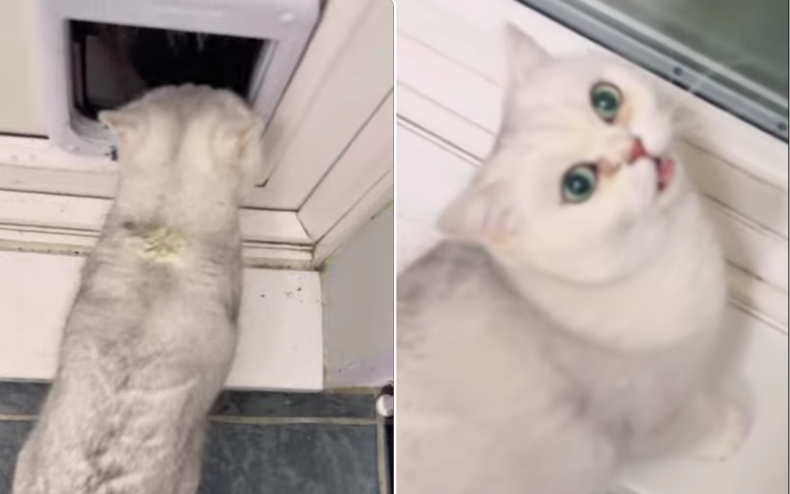 Angie ultimately relents, making a swift exit soon after, but her sassy show of defiance earned plenty of plaudits among pet fans online.
At the time of writing, the footage of her rebellious antics had racked up close to 900,000 views on TikTok as well as thousands more across Instagram and YouTube.
While Angie is quite a character, at least one study has suggested the way our feline friends behave is often a mirror of their human companions.
In a 2019 study published in the scientific journal PLoS One, researchers from Nottingham Trent University in the U.K. conducted personality tests involving 3,300 cat owners.
A series of surveys on pet behavior were also completed as part of the research. The results highlighted a parallel in the influence of owners on pets and the relationship of a parent and child.
Though Angie may have shown a bit of attitude in the viral clip, Renoo is keen to stress there is another, softer side, to his feline friend.
That side was previously showcased in a video that captured her owner's dad Kamaljeet Singh Renoo serenading her with a version of the Dolly Parton/Whitney Houston hit "I Will Always Love You."
It marked a remarkable turnaround, given that his dad, had initially been hesitant to the idea of his son bringing a cat into the home.
"She's popular online for being sassy, spicy, controlling, demanding, and 'angry,'" Renoo told Newsweek. "But most of the time she's a cute ball of fluff who meows and demands attention. It's all a facade as she loves attention and everything to be about her."
She's certainly accomplished that, with this latest video garnering lots of attention on social media.
'So Spicy'
Commenting on the clip, one viewer on TikTok wrote: "She's so spicy," with a second dubbing her a "cat with attitude." A third fan agreed: "Angie is a sassy gal," with a fourth adding: "Angie just needs space. Everyone is getting on her nerves."
Renoo said Angie is relatively inexperienced when it comes to using cat flaps, having only been introduced to the concept a couple of months ago.
He said prior to that Angie was "constantly demanding us let her outside via the door." Despite installing the cat flap, she has continued to make these demands of her owners.
"She knows EXACTLY what she's doing," Renoo said, noting she can be "very manipulative with her meows too." He now knows though if he stands firm and ignores her cries she eventually relents and uses the cat flap.
It wasn't always that way. "She's smart," Renoo said. "When we first got the cat flap, she would act like she didn't know how to use it, so we would have to hold it open for her every time. That was until I checked the cameras and found out she had been using the cat flap fine from the first day we got it! She's so sneaky."
Angie is certainly keeping them on her toes with that cat flap.
Do you have funny and adorable videos or pictures of your pet you want to share? Send them to life@newsweek.com with some details about your best friend and they could appear in our Pet of the Week lineup.