Hotel Worker Exposes the Breakfast Guests Are Really Being Served in Viral Video
A TikTok user who says he works in a hotel has made a video claiming that hotels are lying to customers about the breakfast they serve.
Kurt Hammer, who posts online as @khammer123, shared his clip four days ago, showing the cereals that customers think they are getting—versus what they are really being offered. The video has already gained over 2 million views and 180,000 likes.
He began by filming cereal dispensers in a breakfast room that are labeled with the brand names Frosted Flakes, Froot Loops and Raisin Bran.
"Just look at these nice name brand cereals," Hammer joked. "Nothing to see here."
He then walked into the hotel's pantry, open only to workers, where large bags of generic cereals are stacked up—and claimed that these products are actually the ones being used to fill the dispensers.
"They cappin' to you," he said. "None of it's name brand. It's all a lie."
Hammer didn't mention which hotel he works at or the area, but promised to reveal more about the establishment's breakfasts in a follow-up video.
"I got you when I go back to work," he wrote in the comments, after a TikToker asked about the waffles served in the continental breakfast. His video can also be seen in full here.
Many TikTok commenters expressed concerns about allergens, pointing out that the generic cereals could have different ingredients than the branded ones guests think they are eating.
"That's actually scary if the ingredients are different and you have allergies," wrote one.
According to the ingredients listed online, however, all three Kellogg's cereals on the dispenser labels have the same allergens as the corresponding Hospitality cereals seen in the pantry.
Kelloggs's Frosted Flakes and Hospitality's Sugar Frosted Flakes both have no allergens, according to their online packaging labels. Kellogg's Raisin Bran and Froot Loops both contain wheat, along with the Hospitality Fruit Whirls and Raisin Bran.
Other TikTokers insisted that the branded cereals tasted different. "Do they think people can't tell the difference?" asked one viewer.
"These hotels make a killing, the least they could do is have some real Froot Loops, damn," added another.
Not everyone was convinced, though. "It's all the same," posted one TikTok user.
"I don't care if they're lying, I just learned that I like Fruit Whirls," wrote another.
Hammer summarized his thoughts on the controversy at the end of his viral clip: "Don't trust anybody." Newsweek has contacted him for further comment.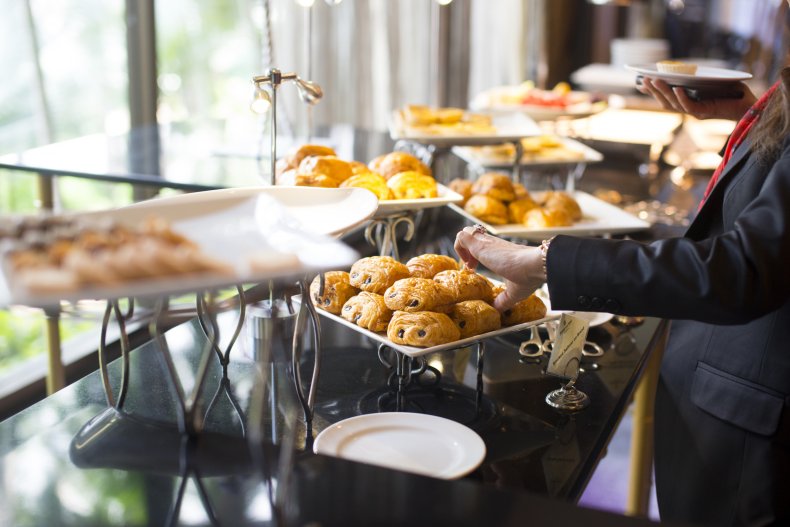 Update 02/08/22, 7:53 a.m. ET: This article was updated to include a video.