Girlfriend Redecorates Cheating Boyfriend's Room With Evidence of Infidelities
A young woman on TikTok exposed her boyfriend as a cheater by plastering the evidence all over his wall and documenting the process in a series of recent videos posted to the social-media app.
Emely, whose handle is @lovetruthink on TikTok, says in the first video that her boyfriend was calling her "crazy and paranoid" for suspecting that he was cheating on her. Despite his denials, though, Emely apparently turned up plenty of evidence to illustrate just how unfaithful her boyfriend had been to her.
The TikToker printed out the proof so that he couldn't "gaslight his way out it," as she puts it. Judging from her TikToks, the evidence appears to consist of text messages and pictures (including nude photos) that the women and boyfriend had shared. (Emely says in her first TikTok in this series that she blurred out faces, "naughty parts" and phone numbers of the people involved in these exchanges.)
Emely told Newsweek in an Instagram DM that the posts also doubled as an announcement that the couple would no longer share the account. "Before I posted this video that account was our account. It was a couple account so I wanted to show our followers that we would no longer be together and the reason for that," she wrote.
In the first video, after we see footage of Emely purchasing super-glue spray at Home Depot, she says, "Being the good girlfriend that I am, I decided to re-decorate my boyfriend's room." The TikTok then shows Emely spraying the printed evidence and hanging it on her boyfriend's bedroom wall.
Emely said in a message to Newsweek that she'd been suspicious that her boyfriend was cheating for a while, and that he's been unfaithful in past relationships. "I had a gut feeling for about a month," she wrote. "I debated if I wanted to look more into it but also didn't want to find anything. I decided to start actually searching 4 days before I posted that video. He has cheated on his ex before as well."
In the second video she uploaded, Emely notes that her boyfriend has been cheating on her with three other women. She then pans the camera across the wall once it's done, to show off her work. And as a nice touch, she also used the printouts to cover his mirror, "because he probably won't be able to look at himself after this."
At the end of the video, she says that she hopes any other women he brings back home will now will be able to know that he's a cheater.
Responding to a commenter who asked for further updates (they were likely hoping to see what the boyfriend's reaction was), Emely says in a followup clip that she wasn't going to upload a proper "Part 3" because she decided to ghost her boyfriend and block him after she told him that she had a surprise for him at his place.
"He cheated before and manipulated his way out of it. So I didn't want to give him a chance to do it again," she says, explaining why she didn't want to be there to witness his reaction.
In that same video, the TikToker says that her (now former) boyfriend did leave her a voicemail, but didn't apologize or try to explain—he simply denied cheating. "He also made a fake account trying to defend himself," she wrote in a message to Newsweek. "Then deleted it because he could not gaslight the whole TikTok community."
In her most recent video, Emely lists the reasons that she was suspicious that her boyfriend was cheating. Among them: He apparently asked her to block his ex-girlfriend, would act defensive when she'd look at his phone, he wouldn't answer her calls when he was out and he'd call her "crazy" when she'd ask for assurances that he wasn't cheating.
Emely's first video—the one where she details her plan to redecorate her boyfriend's room—has received 2.4 million views; the second part—where we see what she refers to as her "masterpiece"—has drawn 7.1 million views.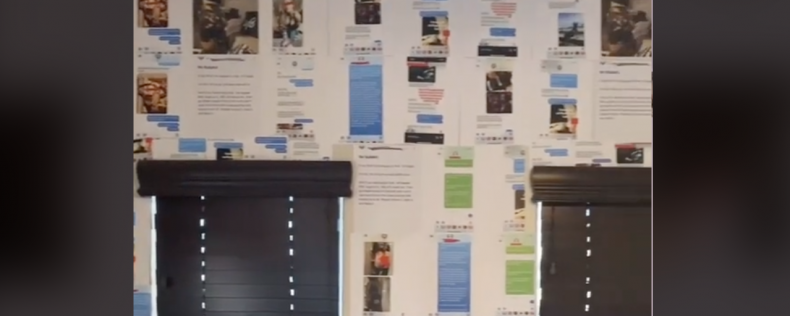 Updated 2/25/21 2:41 p.m. ET: This story has been updated to include comments from Emely.