Family Get 'One Last Christmas' With Late Grandparents After Finding Gifts Hidden in Attic
A family has shared the touching discovery of unopened Christmas presents and cards from both their late grandparents and great-grandparents, with some potentially dating over 25 years ago.
Holly Pomeroy and her family made the heartwarming discovery of the presents and cards this year, after finding them stored in boxes in the attic.
"My grandfather recently passed away and my cousin found super old wrapped Christmas presents in the attic to my dad, my sister and I," she wrote on-screen. "We also found an old Christmas card with money in it from my great-grandparents who passed around 2002."
The presents are piled in a cardboard box and wrapped in Rugrats paper, suggesting they have years on them. It's unknown to the family exactly what year the presents are from, but Pomeroy's grandmother passed in 2015 while her grandfather just recently passed.
"My cousin has been doing most of the clean-up and going through our grandparents' house because she is the only one who lives near it and she found them stowed away. I don't know for sure why they were left or forgotten about," Pomeroy told Newsweek
"As for the actual gifts I'm not sure the exact time period but since one was from my nana who passed in 2015, it's possible that it was from Christmas of 2014 that we weren't able to come down for and then her health started really declining in January of 2015 and my grandpa probably just packed them away and forgot about then because of her death," she explained.
"As for the card, a lot of people are suggesting it could be from the 90s because their grandparents always got fresh bills from the bank to put in their Christmas or birthday cards and the bills do say 1995. I don't know for sure though how bills work or if when you go to a bank you even get bills from the same year."
"We didn't get to spend a whole lot of Christmases with my great grandparents though so could have just been forgotten as well. My dad and sister were in shock but extremely happy this happened to us and we were able to experience one last gift from them. My grandparents were the type that every time we came down to their house they always had something for us to take home, my grandfather loved going to yard sales and most of the stuff we got was from that but we loved it. On one of my dad's gifts you can see tape with a '10' on it so probably from a yard sale too," said Pomeroy.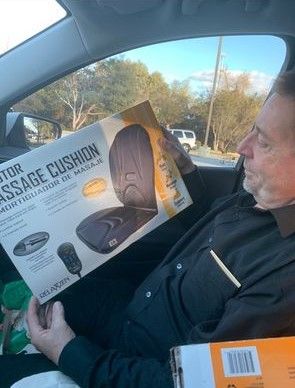 Along with a flashlight and a massage chair for other family members, Pomeroy opened her own gifts, showing her real-time reaction to the presents. She opened the first present, which was addressed simply to her, with no specification of who it was from. The present contained a pink Snuggie.
"Something I've put on almost every Christmas list is a cozy blanket," she wrote on-screen. "My grandparents were making sure I still got something I love from them one last time."
In a humorous turn of events, the second parcel, which was from "nana," contained exactly the same item. "This is so my grandpa's humor though," she wrote. "Two almost identical gifts but the most amazing thing I could have received from them."
The video can also be seen here.
Pomeroy attended her grandfather's funeral just days ago and explained that the presents made the family feel as if he was still there, while warming so many hearts with the story online has added another positive factor.
"My grandfather was big into the community and worked on a lot of projects to better it and things like that he was always in the newspaper and he kept every single newspaper clipping he was ever in and loved being in it," she explained. "So the fact he's in the news again now is absolutely amazing, he would be ecstatic right now."
The video can also be seen here.
UPDATE 12/30/21 4:58 a.m. ET: This article was updated to include a new picture.