TikTok last month banned the crate challenge over safety concerns, and now a new rising trend is causing serious issues on the app.
High school and college students are stealing objects from their schools before sharing them online and dubbing them "devious licks." In this context, a devious lick refers to a successfully stolen item.
The trend originated with user @jugg4elias, who shared a video of himself taking a box of disposable masks from his backpack on September 1, adding the caption: "A month into school absolutely devious lick."
The video gained 300,000 views and triggered a series of copy-cat videos. Five days later, on September 6, TikTok user @dtx.2cent gained over 2.5 million likes with a video showing them removing a hand sanitizer dispenser from their bag.
"Only a month into school and got this absolute devious lick," they wrote.
September 7 saw @mr.epicsinger gain over 3 million views with a video showing his steal from school—a microscope.
The videos are always paired with the TikTok audio created by minttea, but the stolen objects range from working towel dispensers to signs and, even more worryingly, fire alarms.
Some videos depict the "licks" in action—one clip showed a student removing a fire extinguisher from the classroom wall mid-lesson, while another showed a failed attempt to steal a hand sanitizer.
One now-deleted video showed a student entering the high-school bathroom, before leaning under a stool and removing the shoes of another student—though the legitimacy of this video could not be verified.
TikTok has taken action against the trend, removing most of the popular videos featuring "devious licks" on the platform in a bid to counteract it.
But the trend doesn't just show the students' side either. TikToking teacher @mr.dmarin gained over 800,000 likes with his experience of the trend. "Can't believe they caught me lackin'," he wrote, before showing a huge ceiling tile that had been removed and view board pens that had "been finessed."
Although high-school students appear to be fans of the trend, views online have ranged across the spectrum, with some advocating it and others criticizing it.
On the TikTok videos, users directly celebrated the trend, writing: "I love this trend so much."
"I think this might be the best trend of all time," commented another user.
When reshared on Instagram, however, the trend saw a very different response. "Can we maybe not steal from other students and teachers, like they don't get paid enough and you never know the financial situation of a fellow classmate," wrote one user.
"Why do people do this. Teachers barely get paid and schools don't get that much funding and you're gonna steal from them?" added another.
In a statement to Newsweek, a spokesperson for TikTok said: "We expect our community to stay safe and create responsibly, and we do not allow content that promotes or enables criminal activities. We are removing this content and redirecting hashtags and search results to our Community Guidelines to discourage such behavior."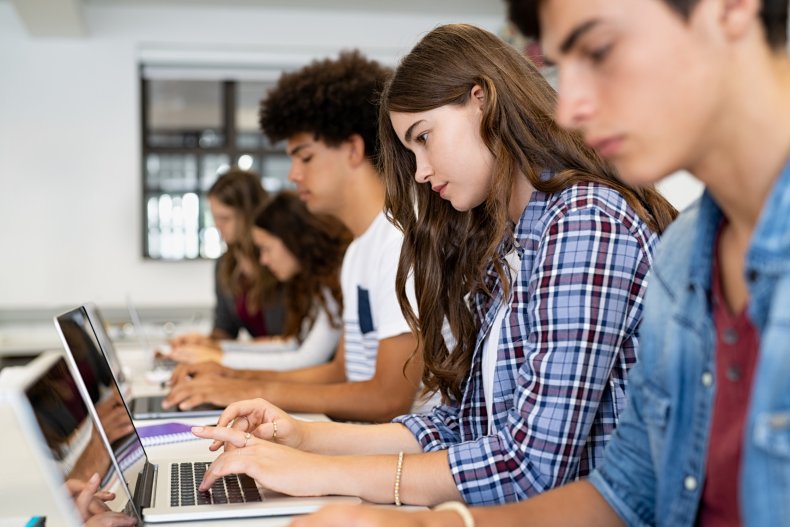 UPDATE 9/17/21 at 3:23 a.m. ET: This article was updated to include a statement from TikTok.