TikTok of Dogs 'Talking S***' and 'Throwing Hands' Goes Viral With 8 Million Views
Two dogs—and their owner—have charmed the internet with their array of hilarious tricks, including the pups' unique ability to "throw hands" and "talk s***."
TikTok account @siriuslysalem primarily features the shenanigans and misadventures of Sirius and Salem, a five-year-old Golden Retriever and three-year-old mutt, respectively. Their owner, Lexx, has trained the two pups to perform a wide range of tricks outside of the typical "sit" and "stay," resulting in videos that leave viewers amazed.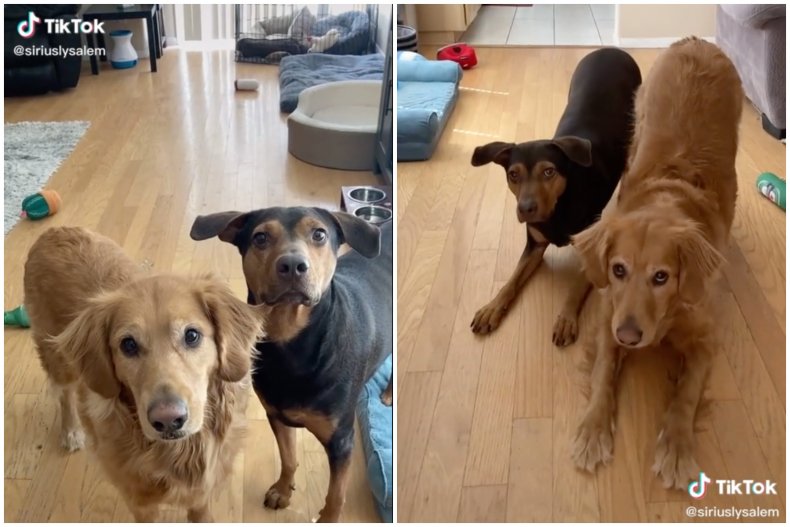 A recent example is a clip posted to TikTok on Wednesday, in which Lexx demonstrates "all the tricks that [she] taught [the dogs] just for fun." First up, she commands Sirius to "talk s***," which, in dog-speak, translates to an adorable growl. When Sirius is then asked if he "wants to throw hands," the pup stands on his hind legs and waves his front paws in the air.
The clip also shows the duo responding to a variety of commands: "Get 'em," "whisper," "spin," "twirl," "wave," and "smile" represent just a handful of the words in the dogs' vocabularies. Especially funny is the command, "gentleman," which prompts Sirius and Salem to dramatically bow in unison.
While the video has already been viewed eight million times and counting, it is by no means the first time @siriuslysalem's content has reached a massive audience. The account boasts over a million followers and tens—if not hundreds—of thousands of views on each posts.
Browsing through their TikTok page, it quickly becomes clear why Lexx and her dogs have amassed such a giant following. Sirius and Salem have been trained by Lexx, who self-describes as "chronically ill" and experiences chronic pain, to help her with everyday tasks and household chores in instances where she is unable to do them herself.
A video posted late-April shows the dogs performing some of these tasks, which Lexx says "help on really bad pain days." For example, when Lexx says, "I'm cold," Sirius proceeds to fetch her a blanket from across the room. When told to "get meds, get drink," the two dogs quickly retrieve the items with their mouths.
Other shows more of their talents, including throwing away trash, opening and closing doors, retrieving laundry from the dryer, and even "sock removal."
Viewers can't get enough of Sirius and Salem—and many want to know how they can train their own pets to respond to these types of verbal cues. Luckily for them, Lexx has a YouTube channel which features training tutorials for many of Sirius' and Salem's most iconic tricks.
For Lexx, working with Sirius and Salem is the culmination of a lifelong passion. "Dog training has been my passion since I was 12 years old and still is at 27," she wrote in a statement to Newsweek. "I've trained every dog I've had in my entire life." However, she added that "Sirius and Salem are truly special."
"I started training both the day I got them at 8 weeks old. I really started with just obedience and fun tricks," explained Lexx. But as they got older, the dogs became increasingly "in-tune" with her health issues. "So I started training them small tasks to help me on my really bad days. Thanks to them I have more independence, I'll finally be able to move out of my [family's] home later this year."
"Sirius and Salem are quite literally my world. They are my happiness. I love them more than anything and they save me every day."