This TikTok Video Perfectly And Hilariously Captures What English Sounds Like to Non-Native Speakers
A TikTok video hilariously demonstrates how much of the meaning of language is conveyed separately from its content.
In March, Diego J. Rivas began posting TikTok videos of him recreating what different languages sound like to people who don't understand the language, reproducing the intonations, gestures and speech patterns, stripped of the actual words.
In a TikTok captioned "What Americans sound like to non-English speakers," Rivas uses nonsense words in a pattern resembling the flow and emphases of American speakers of English.
The TikTok video is part of a series by Rivas, showcasing his expert control over how words sound to different ears and in different languages—all presented in a similar flow of non-word babble.
Here's his "Dutch":
And here's "Spanish," as spoke in Spain:
The differences between the vocal patterns within even the same languages can also be pronounced as Rivas demonstrates with his gibberish take on British English:
Rivas also has videos mimicking the vocal sounds of Japanese, Arabic, Italian, Mandarin Chinese, Zulu and Russian. He even has a TikTok in the vocal stylings of The Sims:
A dental student in Houston, according to his Instagram account, Rivas' creative exploration of language was previously featured on Buzzfeed, which racked up millions of views on several of his TikToks.
Rivas is playing on a phenomenon known as glossolalia, most famously used by certain Christian sects to "speak in tongues" by letting loose a free flow of word-like syllables. Linguists studying the phenomena have found glossolalia speakers still maintain accent, intonations and rhythms of their naturally spoken language, which breaks up the nonsense syllables into distinct sounds.
The idea of stripping language of its signifying content, leaving behind only the meaningless (but somehow still meaningful!) sounds also has a long tradition among talented vocal comics.
One notable example comes from Italy in the 1970s. In the nonsense song "Prisencolinensinainciusol" Italian pop singer Adriano Celentano sings with an American accent, but the only recognizable words among the gibberish are "all right!" Mixing a bit of Elvis and a bit of Bob Dylan, In 1972, Celentano's song became a hit, leading to several TV appearances.
"Ever since I started singing, I was very influenced by American music and everything Americans did," Celentano told NPR, via a translator, in a 2012 interview. "So at a certain point, since I like American slang—which, for a singer, is much easier to sing than to sing in Italian—I thought that I would write a song which would only have as its theme the inability to communicate. And to do this, I had to write a song where the lyrics didn't mean anything."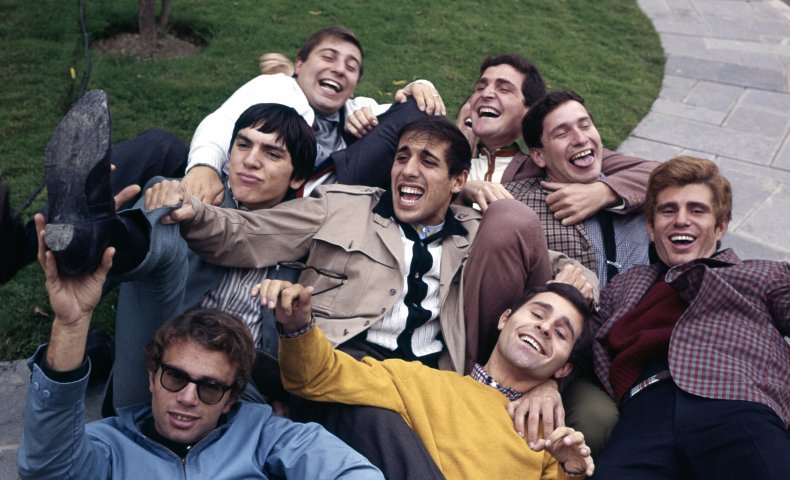 London filmmaking duo Brian Fairbairn and Karl Eccleston updated the concept in their short film "Skwerl," which is full of English-ish lines like "Spine for me to splay the joe drink all around the mass berdation town."