Woman Shares Genius Hack for Shredding Chicken in Viral Video
A "hack" to speed up the process of preparing shredded chicken has gone viral online, with viewers praising its effectiveness.
The TikTok hack aims to make the lengthy and tedious process of shredding chicken by hand a whole lot easier, by using a kitchen gadget you've probably already got in the cupboard.
In just five days, the video posted by @raising.wildlings_ has gained over 26 million views and 4 million likes.
In the clip, blogger Chenel Kruger shows how to use a hand mixer to shred cooked chicken in a matter of seconds, dubbing it: "The best hack of my adult life."
The hand mixer perfectly breaks up the chicken into small pieces that are perfect for meals like tacos and soups.
"The chicken was in the pressure cooker for 20 minutes, with chicken stock. I then drained the chicken stock to shred the chicken, so I can split the chicken for my three meals," Kruger told Newsweek.
"'I've been using this method for a year now, [but] I can't remember how I started it," she said.
With millions of views, the video has gained its fair share of users shocked at the hack, with some gutted about the amount of time they've wasted hand peeling in the past. "So you're telling me I could've done this instead of burning my precious hands?" one user wrote.
"Why do I [only] just know about this method? I'm thinking about all the time i've wasted," wrote another.
Some users felt strongly about the apparent lack of seasoning on the chicken in the video, which the hack creator again explained in a comment.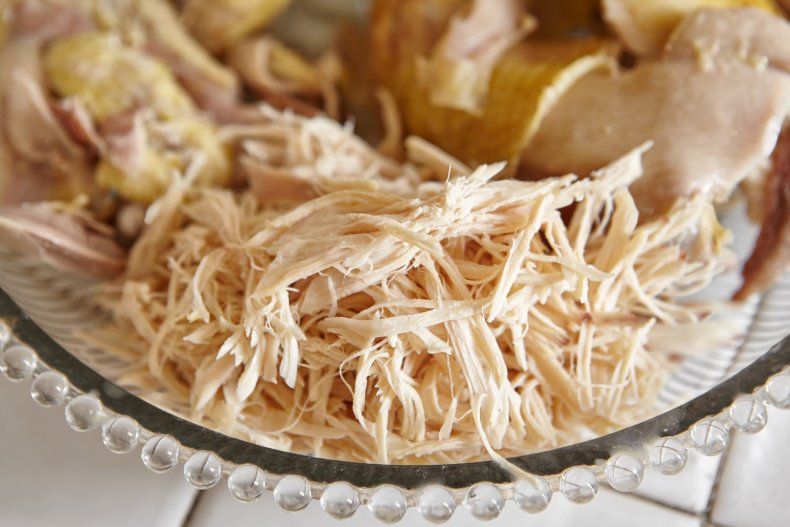 "It ain't even seasoned," wrote one viewer.
"I stay in South Africa and 'chicken mayo sarmies' are a big thing here. So one part was used for chicken mayo, another part was to sautee with spices and home made salsa for enchiladas, and the last part was to add to my veggie soup. It's been hilarious to see how people assume that's my entire meal—people can't grasp that it was not done and I could not season it with anything other than the chicken stock it was cooked in, as I was using it in three different dishes," explained Kruger.
"It's been amazing though to see cultures all around the world commenting about how they would use the hack—it made me actually google some of the dishes," she added.
Others also pointed out the possible damage that the hand mixer could do to a non-stick coating, as Kruger shredded her chicken with the mixer in a pressure cooker.
"Bruh, the non-stick pan," commented one user.
Kruger noted in a comment that she doesn't usually do the hack in her pressure cooker, because of the coating: "I don't usually do this in my pressure cooker, but the coating survived," she wrote.
Cooking Tips and Tricks on TikTok
Shredding chicken is just the latest in a long line of food-based hacks provided by TikTok, with the app fast becoming a home for cooking tips and tricks.
Last week, Ritz Crackers announced its own hack via its official TikTok account, giving an insight on how the edges of the crackers can be used. According to the brand, the scalloped edges are actually designed to be used to cut slices of cheese, wheeling the cracker along like a pizza cutter.
The edge makes indents in the cheese, making it easy to tear a perfectly straight line to create small slices of cheese to sandwich between two crackers.
The TikTok post said it was what the edges were designed for in 1934, but backtracked on the claim, writing "we're allowed to," in response to a viewer claiming they had made the information up.
Update 7/12/21 10:03 a.m. ET: This article was updated to include comments from Chenel Kruger.