Genius Way Cleaner Keeps Homeowner's Dog off Freshly Mopped Floor Praised
Cleaning can become a stressful chore when a dog is around, but one cleaner has discovered a genius way to prevent paw prints on the freshly mopped floor.
In a viral clip shared by homeowner @sharahlarsen, a German Shorthaired Pointer can be seen sitting on the sofa with his eyes fixated on a torch placed on shelves.
The tactic has caused some confusion for some people, but the owner explained in the comments why the method works.
"He is a hunting dog and is just focusing on that light waiting for it to move," she said. "If it doesn't he stays put."
Self-Control in Dogs
The German Shorthaired Pointer is described as an "enthusiastic gundog of all trades who thrives on vigorous exercise [and] positive training" by the American Kennel Club (AKC).
When working as a gundog, the dogs locate game, according to pet care brand Purina, by alerting their owner to their presence by freezing. They must have great self-control in the field "but be ready to leap into action the moment they are needed, Purina said.
The AKC states that the breed needs a job or an activity at all times, so it's no wonder that the dog in the viral clip is happy to focus on the light rather than lounge around when the cleaner is mopping.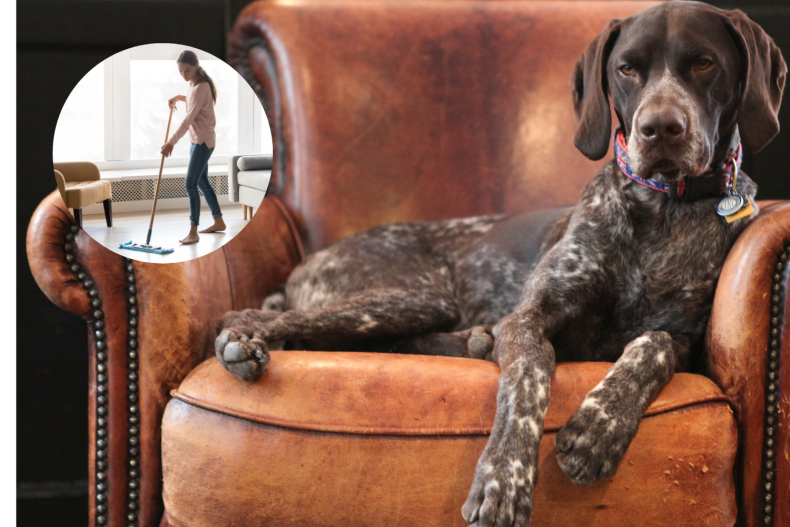 Do Gundogs Make Good Family Pets?
These dogs require a lot of mental stimulation and daily exercise, If not, they can become quite boisterous, according to Purina.
However, this doesn't mean that they won't make loving family pets when they are socially and trained correctly. Purina states that breeds like Spaniels and Golden Retrievers make great gundogs and even better companions for the family.
What Do the Comments Say?
More than 200 TikTok users have commented on the clip, which has 2.2 million views.
One comment, which has more than 7,500 likes, said: "Dogs like, on the couch lady. Them clean floors."
One user said: "That's actually really smart, I love this."
Speaking from experience, another user said: "I get mad when anyone walks on my fresh floor. My dog has seen this and doesn't walk on them when I mop. Dogs are smart."
Newsweek reached out to @sharahlarsen for comment. We could not verify the details of the case.
Do you have funny and adorable videos or pictures of your pet you want to share? We want to see the best ones! Send them in to life@newsweek.com and they could appear on our site.