Golden Retriever Puppy Pretends 'Bones Are Broken' to Get Carried on Walk
A viral video of a golden retriever puppy refusing to walk on a hike has melted hearts on the internet.
The popular TikTok video posted by @goldenguyfitzy is captioned: "Help! I've fallen and I can't get up."
Fitzy, the dog, can be seen lying on the ground, followed by another clip of him being cradled by his owner.
The owner added the following text to the clip to describe his limp body: "Pretending my bones are broken so I have to be carried 30 seconds into our hike."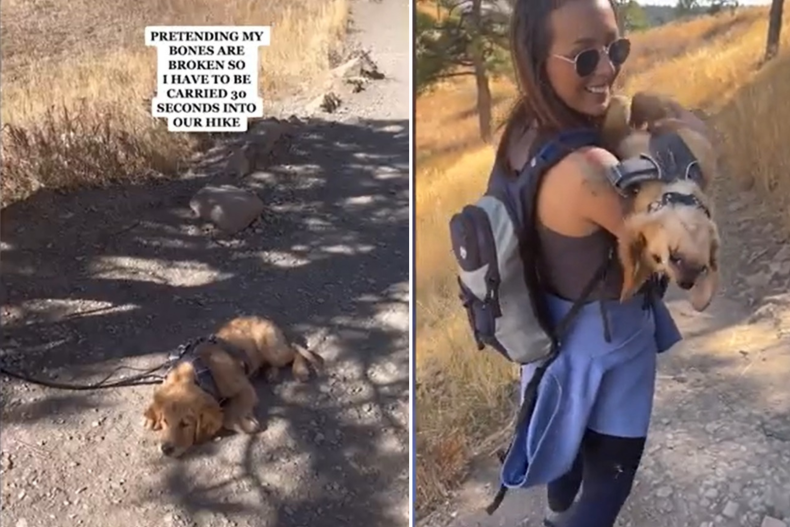 It seems the dog's behavior may be slightly unusual for this breed, as the American Kennel Club (AKC) states they need to be mentally stimulated and have moderately high energy.
However, some TikTok users have pointed out the pup is too young to go on a hike. Fitzy's owner responded to clarify it was really more of a "scenic walk."
The AKC states puppies "should not be exercised too much, as over-exercising could cause joint and bone problems," even if they are larger breeds like a Great Dane.
At six months old, pups may be able to keep up on a long walk, but the AKC advises all dog owners to check with the vet to make sure their canine is in good health.
The purebred dog pedigree website states: "Long hikes over rough terrain or strenuous agility classes are still potentially dangerous."
Fortunately for Fitzy, his owner didn't force him to walk and was more than happy to carry him like a baby.
Puppy Walking Tips
The AKC has provided the following puppy exercise tips:
Teach your puppy to walk on a leash
Begin with short walks and take regular breaks
Walk on the safe footing and avoid sharp or slippery surfaces
Avoid walks during the hot and cold days
What Do the Comments Say?
The comical clip has over 461,000 views and 77,000 likes along with hundreds of comments.
One comment said: "Oh no, he's starting the golden "I'm done with this" thing early!"
"Funny boy. His upside down teefs," said another.
Another said: "That upside down face is precious."
It seems Fitzy isn't the only lazy golden retriever on the internet. Previously, Newsweek shared the hilarious moment of a lazy golden who woke up seven minutes early.
But not all goldens are the same, as Benny was caught on camera sulking as his walk was later than usual.