'Blushing' Gran Melts Hearts After Doing Hair and Makeup for Plumber
A granddaughter has shared the moment she noticed her gran got dolled up for a plumber.
The viral TikTok clip has over 802,000 views since it was shared by @emandgranny, an Australian duo who regularly leave the internet in hysterics.
The video captioned: "Well well well, look who is back looking all fresh and ready to.. open the door to Mr fix my broken puratap," has 120,900 likes.
In the video, grandma Rose's granddaughter, Emma, points out she has done her hair and makeup. But Rose justifies her makeover by stating she has been up since 6.30 a.m. She can also be seen laughing on the phone with the maintenance man.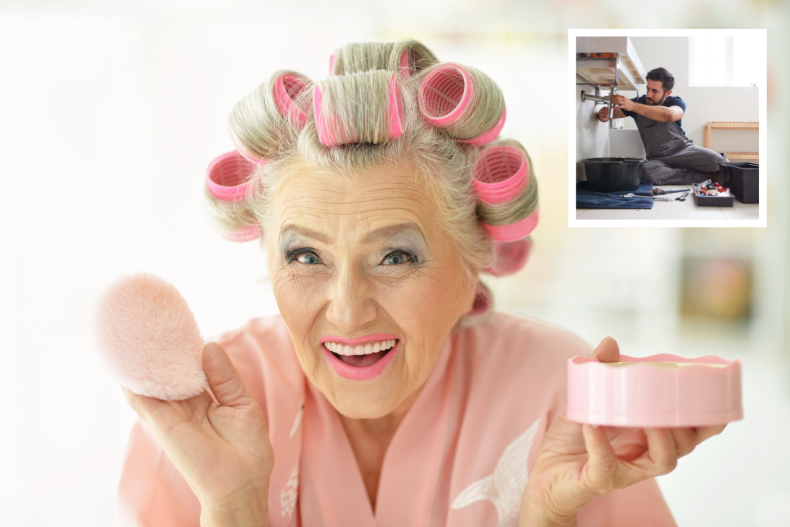 After the call, Emma teases her gran and says "you are blushing" but Rose insists she isn't and states she is hot.
These days there's always a new makeup trend, and it may be hard for a senior woman to keep up. But that doesn't mean senior citizens shouldn't wear makeup if it makes them feel better.
In 2021, a survey of 15,000 U.S. adults by global payments and shopping service Klarna found skincare is the most shopped-for beauty category across all age groups, followed by hair care. Broken down by demographic, 41 percent of Generation Z, 40 percent of Millennials, 31 percent of Generation Xers, and 31 percent of Boomers said skincare was the product category they currently spend the most on.
The survey also revealed the younger generation gets its beauty inspiration from social media apps like TikTok and Instagram whereas Baby Boomers prefer beauty apps.
The viral clip seems to have been a hit online and some TikTok users are vouching for the possible romance that may occur between Rose and the maintenance man.
One person said: "Maintenance man reveal!!"
Another said: "Up since 6:30..getting ready for him."
"You'll never catch an elder person look like s*** when they have a guest over so cute," said one comment.
Another read: "The heart wants what it wants. Grammy knows you can't win if you don't show up to play. Mad respect!"
It is never too late to find love. Previously Newsweek shared a heartwarming story about a granddaughter who helped her grandma find romance by setting her up on dating apps.
Not all elderly people move on but they still do their best to make sure a loved one isn't forgotten. Newsweek also shared the tear-jerking moment a grandma was filmed at a wedding holding a photo of her late husband for the family pictures.
Newsweek reached out to @emandgranny for comment. We could not verify the details of the case.
If you have a family dilemma, let us know via life@newsweek.com. We can ask experts for advice, and your story could be featured on Newsweek.