A TikTok video of a Colorado shooting has gone viral, sparking conversations about Americans' apparent desensitization to gun violence.
The clip, uploaded on June 19 by user @chrollosspellbook, shows a shooting at the Citadel Mall in Colorado Springs. A carnival was taking place in the mall's parking lot at the time.
"When you are trying to record your friends but end up recording a shooting," the user captioned the footage.
It begins with the girl filming her friends on a carnival ride. At first, the shouts in the background can be mistaken for the regular screams heard on amusement park rides.
Then, however, a large group of people run in front of the camera. One of the TikToker's friends can be heard off-camera asking, "Wait, what happened?"
"Oh, is there a gun shooting?" she calmly added. The two girls begin to leave the area, but express concern that their other friends are still on the ride. @chrollosspellbook can be heard crying and screaming as she records.
The girls explained in a later video that people were knocking over gates to get out of the parking lot, and that they eventually made it over one themselves. They ran across the street where crowds had gathered, meeting another group of girls.
"I think there might be a shooter or something," the TikToker's friend nonchalantly told this group of girls.
Colorado Springs PD told Newsweek that the shooting is still an active investigation, and that they received calls for guns fired at around 9 p.m. Two juveniles were taken to hospital with serious injuries following the incident. A third was transported to hospital by family members later, and also had serious injuries.
Police believe the disturbance broke out between two groups of people who were known to each other. All involved are expected to make a full recovery.
The TikTok user described the incident as "a bunch of people who started running towards us and at first we thought, it was just a couple of people, so we thought they were getting on a ride."
"But then there was a bunch of people and we were getting trampled over. So, our friends were still stuck on the ride, but we had to get up so we wouldn't get ran over, but our friends did make it off OK," she said.
"After we got across the street, I was really scared because our friends were still on the ride. When we got with the group of girls, she [her friend] said, 'I think there was a shooter or something.' We asked if we could stay with them and they said, 'Sure,' but they kind of left. So we tried waiting in a cafe but they wouldn't let us in, so we just waited until we were picked up," she added.
Her TikTok video, which has been watched 1.9 million times, sparked a discussion in the comments about reactions to shootings in the U.S., with many pointing to the friend's apparently unfazed demeanor.
"You know it's America the way the last girl just said, 'yeah it might be a shooter or something,' like it's something normal," wrote one viewer.
"The fact that 'I think there's a shooter or something' can be said with such lax…woo America," posted another.
Others felt the friend's response was sensible, however. One wrote: "The best thing to do is stay calm. As scary as a shooting is, you have to stay calm."
Newsweek has contacted the TikTok user for comment.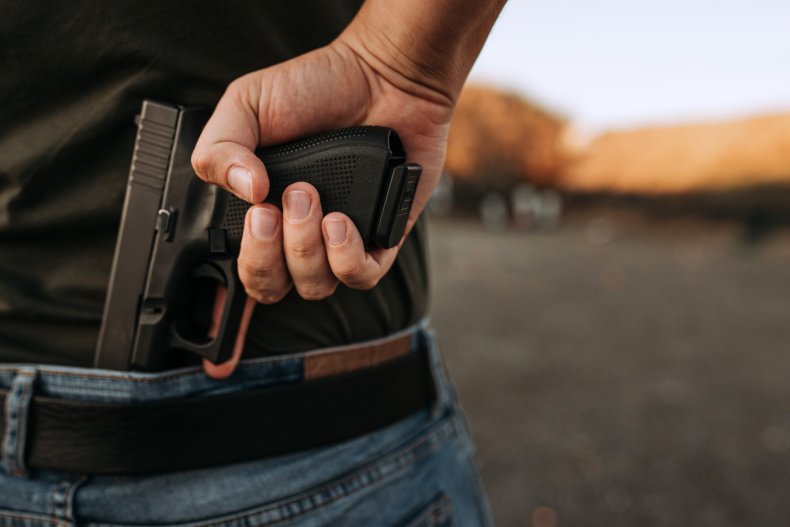 Update 7/02/21, 02:58 a.m. ET: This article was updated with information from Colorado Springs PD.