Inspiring Schoolgirl Dances Her Way Through Failed Bone Marrow Diagnosis
A six-year-old has stolen the hearts of the internet as she dances her way through a rare condition that once left her "lifeless."
Little Penny Barraclough, from Yorkshire, U.K., was diagnosed with bone marrow failure in February 2022 and she has since had chemotherapy, over 15 transfusions, and a stem-cell transplant.
But the schoolgirl has been nothing but an inspiration to hundreds and thousands of TikTok users who admire her enthusiasm.
Her proud mom Jodie Mangham, 30, has uploaded a number of uplifting videos that show Penny's infectious liveliness rubbing off on the hospital staff.
Recently, a video shared to @jodiemangham761 of Penny dancing with three nurses in a hospital corridor racked up 5.9 million views and 589,300 likes.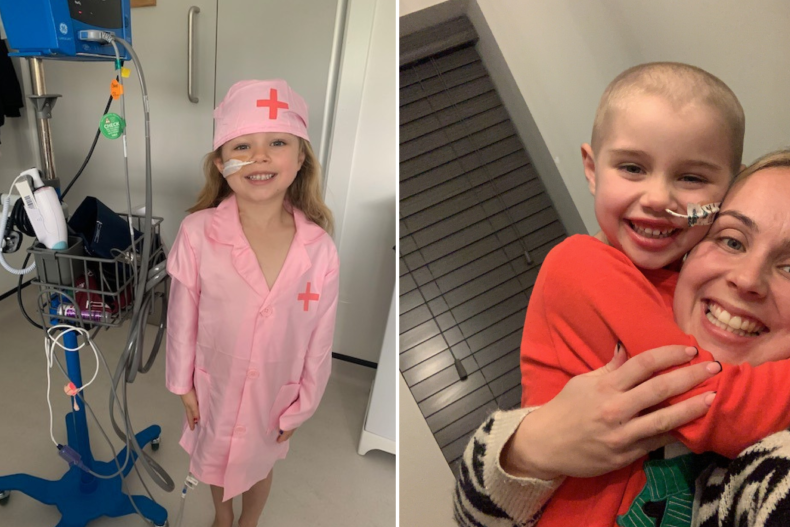 Mangham told Newsweek she is blown away by her daughter's "strength, determination and courage."
She said: "Before the diagnosis, Penny was pretty much lifeless as she was lethargic all the time and we didn't know why.
"She spent over three years of her life going back and forth from the hospital with regular bugs, high temperature, and frequent bruising.
"My mother's instincts were telling me something wasn't right so I asked them to do a blood test which revealed her platelets were low."
In February 2022, Penny was diagnosed with a rare disease called Congenital amegakaryocytic thrombocytopenia (CAMT). This meant Penny's blood-producing cells located in the bone marrow, do not work as they should: this has been termed 'bone marrow failure.'
From March to September the family was waiting for a donor match, and during this time, Penny had 10 platelet transfusions and six blood transfusions.
Mangham told Newsweek: "From day one, Penny's ability to smile through the tough times has amazed me.
"She had to have one week of chemotherapy and her hair began to fall out so we made the best of a bad situation and let her cut it all off.
"We then completely shaved her head but she rocked it. Her eyes and smile looked even prettier."
On September 28, 2022, Penny's life changed for the better as she had a stem cell transplant. Six months on, Penny is thriving and her mom praises TikTok dances for keeping their spirits high.
Mangham said: "She has shown nothing but inspiration and courage. She dances all day and every day when she is feeling good.
"She has never had this much energy before so now she is catching up on all those years of being lethargic. She is full of energy from the moment she wakes until she goes to sleep," she added.
'Laughter Can Often Be Some of the Best Medicine'
Mangham praises the nurses at Sheffield Children's Hospital for going above and beyond to ensure her little girl is happy and made to feel at home.
Newsweek reached out to Yvonne Millard, Chief Nurse at Sheffield Children's NHS Foundation Trust, who said: "Our nurses and their clinical colleagues are dedicated to making sure all our babies, children, and young people receive the very best medical care while they are with us at Sheffield Children's.
"But the care they give is so much more. Together with our wonderful play team, they provide a holistic approach to healing and general well-being so that, while they are with us, the children and young people are supported, engaged, stimulated, and happy.
"If dancing with a patient like Penny on TikTok lifts her spirits and makes her stay at Sheffield Children's happier then our colleagues are more than willing to go that extra mile. Fun and laughter can often be some of the best medicine."
Penny has received a sea of support on the aforementioned video, one user said: "You killed it sweetheart! This made my heart soooo happy. We will dance with you any day!"
Another complimented: "She is an amazing dancer!"
"Nurses are a different breed of humans," praised another.
Is there a health issue that's worrying you? Let us know via health@newsweek.com. We can ask experts for advice, and your story could be featured on Newsweek.