Hearts Melt As Cat Adopts Abandoned Newborn Kitten: 'Bonus Baby'
A cat named Rihanna has melted hearts online as she takes in an abandoned kitten and treats him like one of her own.
In the video shared on Monday by her owner under the username houseofsixcats, a newborn kitten can be seen in front of a cardboard box and is then taken in by Rihanna. The next clip shows the kitten settling in with his new siblings and being nursed by his adoptive mom.
The adorable TikTok video has racked up 458,700 views and 65,800 likes since it was shared. But mixing kittens isn't as cute as it seems, according to an expert.
Dr. Sarah Merrett, a veterinary officer who works for Cats Protection, a UK-based charity dedicated to rescuing and re-homing felines, told Newsweek there are a number of potential problems when different litters are mixed.
"Although a cat who is already feeding kittens often will accept and care for an orphan, Cats Protection warns that there are significant health risks when mixing kittens from different litters, both to the resident and introduced kittens," said Merrett.
"They have a higher chance of contracting and spreading infectious diseases, including viruses, bacteria, some fungal diseases, and parasites such as fleas and worms," explained Merrett.
She added: "The diseases may not be immediately apparent, and the close contact that occurs between a cat and her kittens, along with the vulnerability of very young cats, who will not yet be vaccinated and have a developing immune system, allows any infection present to spread rapidly. In the worst-case scenario, this can cause fatal disease."
Despite this, Rihanna has been branded as the "perfect mom for the job" by her owner.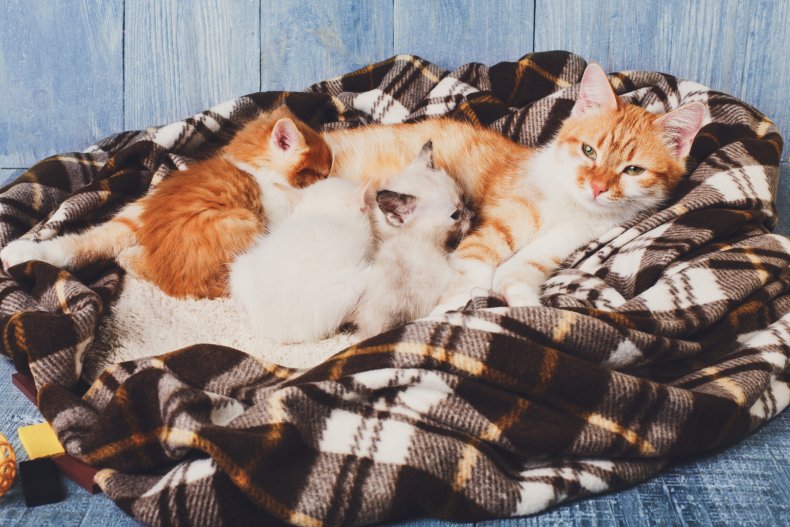 "She accepted the baby the second we set it outside of her box," says text accompanying the video.
However, her owner admits Rihanna looked a "little confused" to find four kittens in her box after giving birth to just three. But that didn't stop her from allowing the new kitten to "nurse right away."
The final clip shows all of the kittens suckling and the owner states that the abandoned kitten is "settled in with his new siblings and new loving mom, welcome bonus baby!"
Over 1,000 people have commented on the video and it seems like they can't get enough of Rihanna's take on being an adopted mom.
One user said: "She didn't even hesitate! What a wonderful mama!"
A different user commented to say: "Snatched him up RIGHT away. No one is going hungry on mama's watch."
"That's a beautiful thing to watch. thank u for showing us this act of love in our animal world," said another.
Newsweek has reached out to @houseofsixcatsfor comment. We could not verify the details of the case.
Do you have funny and adorable videos or pictures of your pet you want to share? Send them to life@newsweek.com with some details about your best friend and they could appear in our Pet of the Week lineup.