'Hypetags' Show Live Value of Your Sneakers—and the Internet Isn't Happy
A digital price tag that shows the live value of your collectible sneakers is causing a stir online.
TikTok user and inventor Brian Moore shared the "hypetags" to his account three days ago, and his video has already gained more than 965,000 views.
His previous inventions include a website that teaches you to stop touching your face and a scooter powered by the volume of the rider's screams. Although Moore's "hypetags"—like his other contraptions—appear to have a comical edge, TikTokers are not seeing the funny side.
Hypetags are a "digital price tag for your sneakers that updates with their current price on [online marketplace] StockX," Moore explained in the video.
"After paying way too much for these shoes, I realized there was no way non-sneakerhead normies would know how valuable they were, so I had to figure out a new way to flex," he added.
The footage then cuts to a video call with friends, where one suggests that Moore take the live price "and put it right on the shoe." So, he did exactly that.
"I just started dipping my toes into the sneakerhead world and realized how insane it is. And this is my way to show just how ridiculous it can be," Moore told Newsweek.
Moore 3D-modeled and 3D-printed the tag before writing the software, designing the tag, and linking it up to StockX's shoe pricing.
At the end of the video, Moore attempted to show off his rising sneaker value, but was left with a price drop instead.
Despite all clues pointing to the invention being a joke, many TikTokers were still left annoyed by the premise of "hypetags."
"It's just the cost of entry for making interesting things on the internet," said Moore. "I wouldn't be doing this if I didn't expect it! For every comment hating it, I've got another in my DMs asking how to buy."
"If i see you wearing this, i'm stepping on your shoes," wrote one commenter.
"How to get mugged 101," added another.
"I understand this is a joke, but some people really be like this, I feel bad for those people," posted a third TikTok user.
A sneaker collector, @cyberexboyfriend, said Moore's video was emblematic of how the community had changed in recent years. "The whole point of sneakers is that they were a collectors' club with history and storytelling behind each shoe," he said. "It was very much, if you knew how much they cost, you knew how much they'd cost. It's stealth wealth."
In August, Moore unveiled another sneaker-based invention on his TikTok account—the "Shoom." It is, of course, a camera that shows off your sneakers when you're on a video call for work.
That same month, Newsweek reported on a similarly ridiculous, similarly viral gizmo created by Matt Benedetto, who posts on social media under the name @unnecessaryinventions.
He vowed to fight a scourge of modern life—people stealing your phone charger. The Cable Clamp Cover replaces the outlet cover on your wall, but the technology means the charger can't be taken out of the wall without a screwdriver.
The charger cable is fed through the new cover and the charging brick slips right into it. The cover is then screwed into the wall, essentially trapping the charger inside so family, friends or roommates can't take it for themselves.
Unlike Moore with the "hypetags," however, Benedetto was inundated with comments from people demanding to know where they could get their hands on one.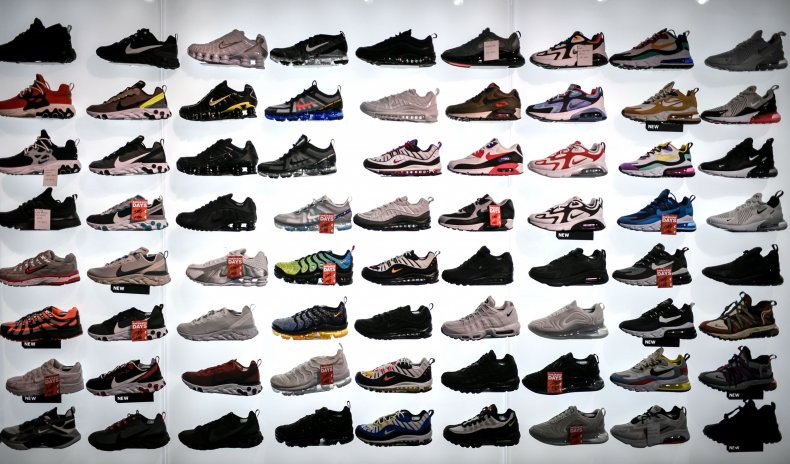 Update 12/22/2021, 8:55 a.m. ET: This article was updated to include comment from Brian Moore.