Video of Man Taking Pet Monkey For Walk on Leash Sparks Outrage: 'Should Be In The Wild'
Footage of a man taking a pet monkey for a walk on a leash has sparked criticism and concern on social media.
Animal enthusiast Kyle Thomas took to TikTok earlier this January to share a video with fans chronicling his marmoset Freddie's first walk outdoors.
"Taking Freddie the monkey on his FIRST EVER walk! He didn't love it," a caption accompanying the clip read. You can watch it here.
Speaking at the beginning of the video, Thomas explains that "it's pretty cold in the U.K." where he resides so he has Freddie decked out in a coat and wearing a nappy designed for a marmoset.
The monkey is shown wearing a leopard-print effect coat and special monkey nappy. During this introduction, Thomas also notes that Freddie will be kept on a lead throughout the walk.
Despite insisting Freddie is "pretty excited" for the walk ahead, seconds later, the video cuts to Thomas explaining that Freddie "doesn't want the coat on."
Having removed the garment to make it easier for the monkey to climb around, they head off.
However, things are soon derailed again when, as Thomas puts it, Freddie tried to "jump up" the side of his house. "I really don't want to lose him," he explains so decides to keep hold of the monkey for the duration of the walk.
Once again though, that plan goes out the window with the footage cutting to Thomas explaining that Freddie "really doesn't want" him to hold him. Having decamped to the security of his back garden, things go from bad to worse when it becomes apparent that Freddie is no fan of the grass either.
They eventually retreat back inside, with Thomas offering some further context as to why the monkey may be acting so erratically.
"This is the first time we have tried out the leash and that's why Freddie is so confused," he explains. "But we're going to keep trying and get him used to it and I'm sure he's going to be okay."
Thomas notes he has been doing "lots of research" and it can take a while for monkeys to get used to wearing clothes. Acknowledging it is a "slow process" and he does not want to "upset" Freddie, Thomas signs off the video by giving the monkey a cuddle and a well-earned treat.
At the time of writing, the clip has garnered nearly 480,000 views with Thomas' care and affection for the animal shining through in the footage. Yet that has not stopped some on TikTok from expressing concern over the video's content.
Andrew Taylor wrote: "Sounds like Freddie would like freedom and to be in his natural habitat." Kayleiighjo was similarly critical, asking: "Why is the monkey in clothes anyway?"
Acolyeuk felt the monkey "should be in the wild" while mssquidwardbae felt what Thomas was doing was "so inhumane."
"Poor thing," kates.private4 commented with westman100 writing: "that's cruel."
There were plenty of pet lovers who liked the footage though. Xxfireflamexx1 commented: "Awww he is sooo adorable and cute." Melaninchocolatedrip spoke in similarly glowing terms writing: "he so cute."
Newsweek has contacted Thomas' management for comment.
Thomas has previously hit back at criticism of the size of his marmoset's enclosure insisting all of his facilities "have been inspected by qualified animal welfare professionals and they are above standard."
"They aren't always in there," he added. "Cage time isn't the most important thing, but enrichment, diet and exercise are most important."
Capable of living up to 18 years, while the RSPCA acknowledges that it is legal to keep a marmoset as a pet in the U.K., it advises against it.
"They are wild animals that have very specific welfare needs," it explains. "It is impossible to provide an environment as complex and rich as the wild for a marmoset kept as a pet. They are tropical animals who require a warm climate."
It also notes that marmosets "scent-mark their surroundings" making them unsuitable to be kept in the home. "They are highly intelligent creatures who get easily bored, which can cause intense stress," it warns. "In the wild, they create stable social groups, so to keep them alone is cruel and unnatural."
Liz Cabrera Holtz, wildlife campaign manager at World Animal Protection in the U.S., told Newsweek: "Marmosets, like all wild animals, don't belong on leashes or in clothing.
"There's been a disturbing rise in the number of TikTok accounts exploiting wild animals to become famous. Videos like these send the message that wild animals can thrive in human homes—in reality, they're suffering.
"In the U.S., we're fighting to end the private possession of non-human primates with the passage of the Captive Primate Safety Act. All wild animals deserve a wild life."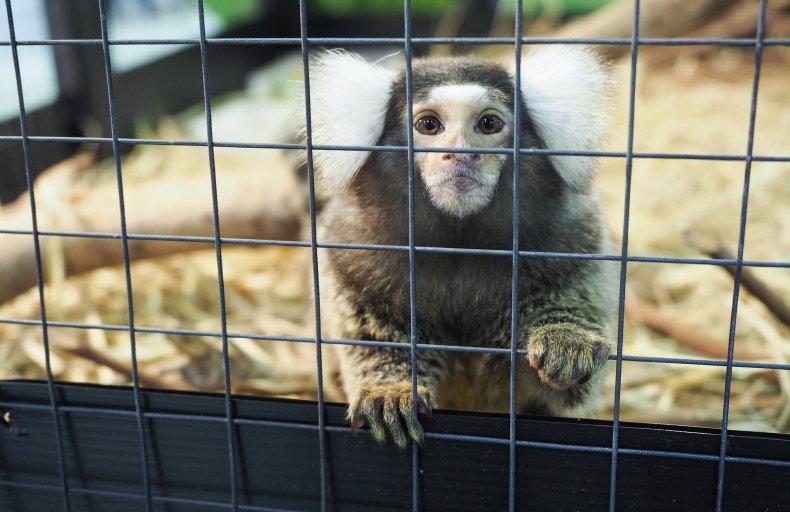 Update 01/21/22, 5:57 a.m. ET: This article was updated with comment from Liz Cabrera Holtz.