'The Last of Us' Fan in Hysterics As Hotel Honors Bizarre Request: 'Sorry'
When staying at a hotel, some guests may request something special ahead of their stay such as birthday balloons or a bottle of bubbly.
But Tetiana Tsukrova, from Ukraine, had other plans. She asked the staff at a hotel in Rotterdam, Holland, to put a picture in the room ahead of her stay and the internet has gone wild.
Tsukrova shared the photo to her TikTok account @noeim_ on February 20, and so far, it has racked up 2.5 million views.
The clip shows a photo of The Last of Us star Pedro Pascal in a frame next to the bed. Tsukrova and her friends can be heard giggling in the background.
For those who don't know, The Last of Us is an American post-apocalyptic drama television series. It is based on a multi-award-winning Playstation game that has picked up plenty of British Academy Film Awards (BAFTA) gongs over the years.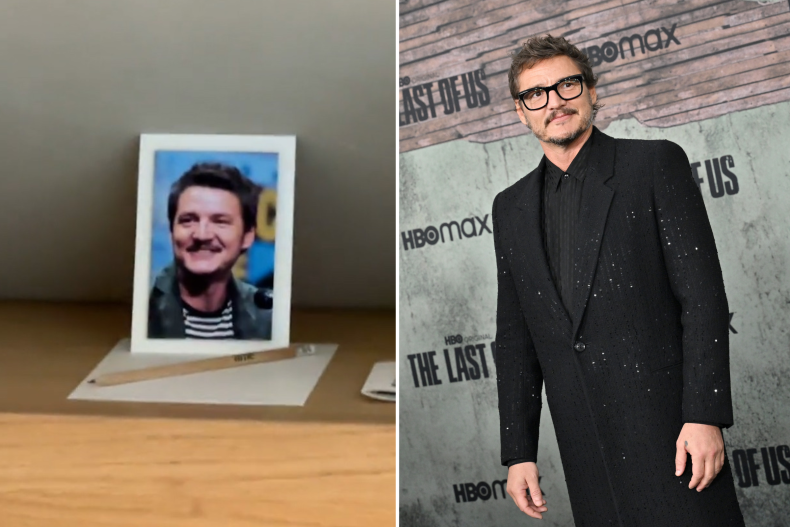 The Last Of Us marks Sky Atlantic's second-biggest U.S. drama debut, behind only House of the Dragon which launched last August, according to the Sky Group.
So far, the series has been a hit and has grown its audience each Sunday night with the release of new episodes, according to Warner Bros Discovery. The media and entertainment company states 7.5 million viewers tuned in to Episode 4 and there has been a 60 percent increase since the series' debut night in January.
Speaking to Newsweek, Tsukrova said: "I requested the photo because I love The Last of Us game, and it's incredible to see how remarkable Pedro Pascal and Bella Ramsey are in the roles of Joel and Ellie, adding more depth to the characters that Troy Baker and Ashley Johnson had built."
The viral video captioned: "Pedro if you're seeing this I am sorry," has racked up 453,000 likes and 580 comments, at the time of writing.
One user's comment has over 22,000 likes, it said: "If I had this job I'd have too much fun with this request, pictures would be everywhere with a note saying 'same.'
"Yup. They understood the assignment. LOL. Exceeded expectations," said another person.
A hospitality worker said: "As hotel staff, this would honestly make my day and wouldn't stop at just 1."
"That's what I call good customer service," commented another person.
While the series is loved by many, it has received some backlash for making white characters black. Newsweek shared an article written by a fan who said: "Pushing for Black actors playing white characters while insisting race doesn't matter is rank hypocrisy."
If you have a personal dilemma, let us know via life@newsweek.com. We can ask experts for advice on relationships, family, friends, money and work and your story could be featured on Newsweek's "What Should I Do? section.