Some countries have moved past the use of inconvenient messy sauce sachets, choosing to use disposable pots instead. The U.S. however, is still stuck with the sachets, much to the disapproval of many fast food customers.
Squeezing sauce out of sachets is not only messy, but requires you to find something to put it onto, only adding to the whole ordeal. Plus, and most importantly, you end up leaving a considerable amount in the packet, unable to fully squeeze it out.
Now, thanks to TikTok, all of this is avoidable. Mom and TikTok user @cookiterica, Erica Kuiper, explained to her account on August 8 that she would use this tip when visiting a drive-thru with her young daughter.
"When Morgan was little and we would go through the drive-thru, we taught her to take the ketchup packet and tear it down this way, and then when you open the packet, she could dip the fries right in there," she said.
In the video, Kuiper demonstrated exactly how to open the sachet for optimal use, tearing along the longest side all the way. Then, you puff the sachet out, creating a DIY tub of ketchup, perfect for dipping a fry straight into.
"McDonald's French fries are always best piping hot," Kuiper told Newsweek in an email.
"In high school, my friend Jamie and I would occasionally take long drives through these beautiful back country roads in Poolesville Md, sunroof open, windows open, blasting our music - you know 90's teenager stuff.
"Sometimes we stopped at McDonald's to get some French fries (she always wanted to drive) so the both of us were trying to figure out how she could drive and dip, and that's when we discovered the packet can open as a pouch."
"Then we grew up and had kids and it was standard practice for us. So with Morgan (our daughter), my husband Eric, and I always opened the ketchup packets on the way home from McDonald's so that our kiddo could have nice hot salty fries dipped in ketchup. Now she's 22 and still opens ketchup that way."
The hack gained over 500,000 likes, and two days later a reaction to the tip went viral too. On August 10, TikTok user @kelmergs duetted the video, trying it out for herself.
"TikTok does it again," she wrote, as she shook her head in disbelief at how well it worked.
"Well another one for me. Today years old...again," commented one user, referencing the mass amount of tips and tricks rolling out of TikTok daily.
Although this hack is proving revolutionary for many, it's not the first time a sachet-based hack has gone viral on TikTok.
In April, TikTok user @ameliaholdsworth shared her idea for dipping fries into a sachet, by ripping the short end completely off, and dipping the fry length way into the packet.
Similarly, in 2014, Food Beast reported that ripping off a large corner space to dunk the fry in was the most useful way.
Both methods work, but debatably are less mess-free and effective than Kuiper's hack, as they give less range to dip the ends of the fries in without covering your fingers in sauce, if you don't eat the fry in one bite that is.
With the other methods, you also can't see how much sauce is left in the sachet to ration out your dipping amounts, or even to scrape up the last bits.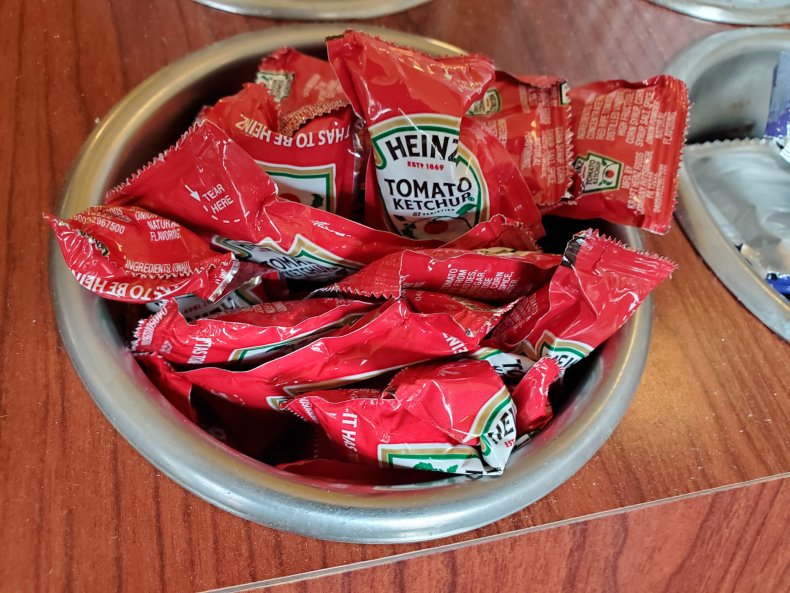 UPDATE 9/14/21 at 3:33 a.m. ET: This article was updated to include comment from Erica Kuiper.