What Does a Medusa Tattoo Mean? Myth Explained As TikTok Videos Go Viral
If you've scrolled on your FYP in the last few months, you might have seen ambiguous TikToks that reference the meaning of the Medusa tattoo.
"A lot of people didn't realize the meaning of a Medusa tattoo. If you do, I am so sorry you went through this too. You are so strong," said TikTok user @r.bree.xo, showing her inking of the Gorgon.
Videos of people showing their Medusa tattoos on the app are racking up hundreds of thousands of views, as many hint towards a deeper meaning.
Most will know Medusa for her head of snakes instead of hair and the power to turn anyone who looks at her into stone. Many will also be familiar with her most famous tale from mythology—being beheaded by Perseus. After severing her head using a bronze shield to protect his eyes, Perseus used Medusa's head to defeat his enemies in battle.
Medusa became a sign of monstrous evil, but her backstory is far different. According to the main variation of her tale, Medusa was once a beautiful young woman. It was that beauty that caught the attention of sea god Poseidon, who is said to have raped her in Athena's sacred temple. Athena in response turned Medusa into the figure we recognize, with her snake curls and deathly stare.
In the widely believed variation, the power put onto Medusa was a curse from Athena, who was furious at the tainting of her sacred temple. Other iterations of the myth however recognize it as a blessing, a way for Medusa to protect herself after being assaulted by Poseidon.
According to The Met Museum, Medusa is portrayed in most Greek art as an "apotropaic symbol used to protect and ward off the negative," representing a "dangerous threat meant to deter other dangerous threats, an image of evil to repel evil."
In modern tales of Gorgon though, she is a symbol of female rage. She was even used in feminist theorist Hélène Cixous's 1975 manifesto The Laugh of the Medusa.
Similarly, the TikTok tattoos reference Medusa as a victim rather than a villain. She is seen as a symbol of power after sexual assault and combatting the culture of victim-blaming as a woman made into a monster for her own rape.
"That's why a lot of people have this tattoo, because if they were, they are victims, it is like empowering yourself, taking back your power type of thing," said @weytooshey in her video, after going viral discussing Medusa tattoos.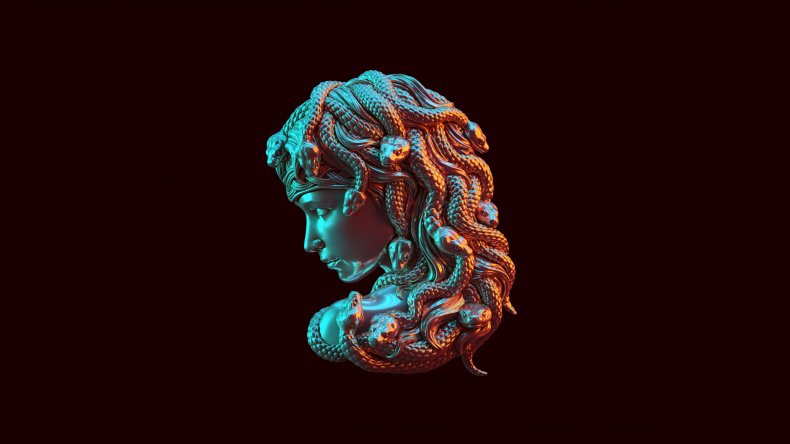 UPDATE 01/18/22 6:54 a.m. ET: This article was updated to include new videos and picture and to modify the headline.