Mom's Reaction to Puppy Leaves Internet in Stitches: 'Cannot Stay Here'
A woman's reaction to a new puppy has left the internet in stitches. At first, she seems adamant that the little canine cannot stay in her house, but then she refuses to let him leave her lap.
The viral TikTok video captioned: "After much yelling and cursing gina is now a grandma" has had 5.7 million views.
Gina can be seen sitting on a sofa with Hudson, the pup, who appears to have made himself at home as he cuddles underneath a blanket on her lap. While the duo seem to be hitting it off, Gina repeatedly tells her son Vincent, 21, that the dog "cannot stay here."
She also says: "He's not staying, we aren't having a f****** dog in the house. Vincent, you're lucky you live here."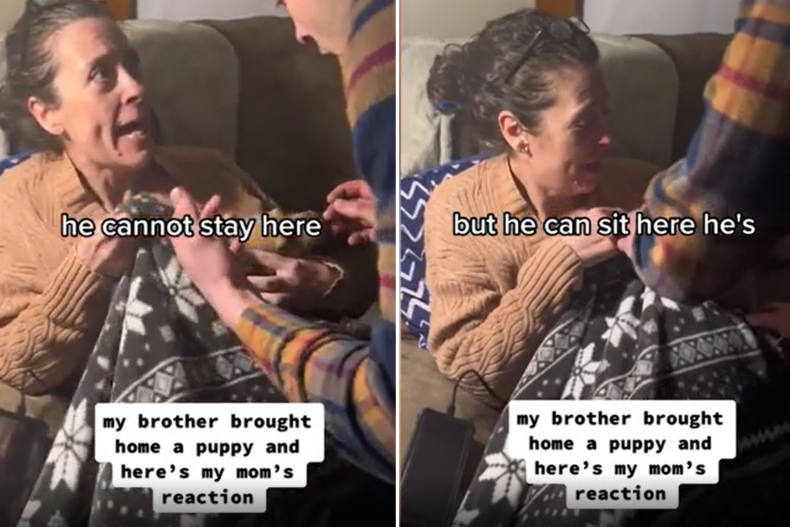 But when Vincent attempts to pick Hudson up, she refuses to let him go. Now, almost three weeks later, Hudson is part of the family and it seems Gina couldn't be happier.
According to the 2021-2022 APPA National Pet Owners Survey, 70 percent of U.S. households own a pet, which equates to 90.5 million homes. The survey also revealed 69 million of those had dogs.
Gina may have been apprehensive about keeping the puppy as they aren't cheap to look after. The aforementioned survey also revealed the average annual cost of keeping a dog is $1,480: this includes $458 in surgical vet visits, $287 in food and $242 in routine vet appointments.
Another reason she may have been against the idea is that pups require a lot of time and effort. There is training involved and they shouldn't be left alone for long periods of time. It is important for people to consider their schedules and responsibilities ahead of getting a dog.
The American Kennel Club states that a puppy under the age of 10 weeks shouldn't be left alone for any longer than one hour. Every month this time can increase by an hour until the pup is over six months old and then the maximum time is six to eight hours.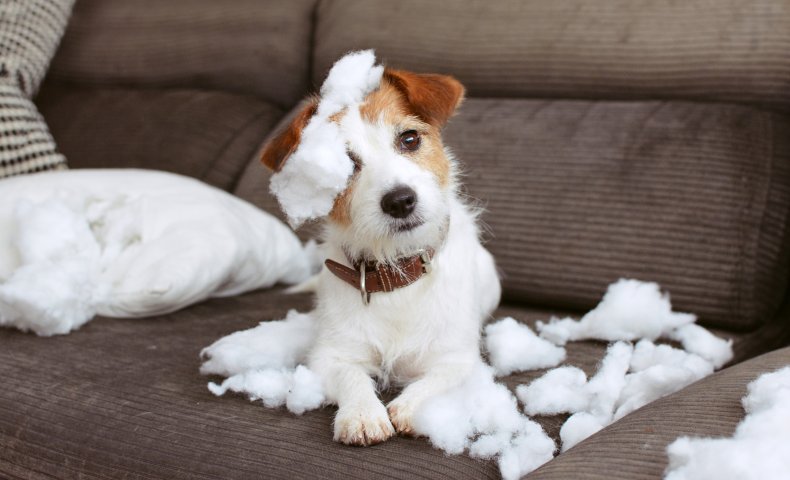 The popular video featuring Gina and Hudson has racked up more than 711,000 views and attracted over 2,240 comments.
One comment, that has more than 38,000 likes says: "You know she was like "f*** this dog is cute."
Another user said: "That dog is definitely living out his life there."
"She's trying so hard not to look at the dog because she's trying to convince herself too that he ain't staying," pointed out another user.
Do you have funny and adorable videos or pictures of your pet you want to share? Send them to life@newsweek.com with some details about your best friend and they could appear in our Pet of the Week lineup.